---
  ORGLOG  …. was in der Eckercup-Vorbereitungsphase so alles zu erledigen ist und planend abläuft !

---
Anfang Oktober 2007 – mit dem Einpacken endet die Vorbereitungsphase – ORGLOG ist abgeschlossen !
Langsam aber sicher wird es ernst. Nun heißt es alles zusammentragen, was so notwendig ist. Mit doch einigem Gepäck erfolgt dann die Anreise. Manche haben diese erst knapp vor dem Regattastart eingeplant, andere gehen etwas früher hinunter nach Kroatien. Die Crews des YCBS starten unterschiedlich – Walter Hager und seine Mannen reisen eher knapp vorher an (Schiff ab Murter), Manfred Hamminger und seine Besatzung starten Mitte der Woche mit Schiff ab Istrien/Umag und Anton Herzog mit seiner Crew macht eine volle Vorbereitungswoche (Schiff ab Sibenik).
Damit endet die YCBS-Berichterstattung über die org. Vorarbeiten zur Eckercup-Teilnahme hier im ORGLOG – die nun folgenden Beiträge werden in TABLOG (tabellarische Kurz-Infos von YCBS-Clubsekretärin Annemarie Brandstätter) bzw. in WEBLOG (textliche Berichte von Elisabeth Herzog) zu finden sein (Autor Anton vertschüßt sich nun ans Meer – der Spass geht los !).
Clubabend 26. September 2007 – die YCBS-Eckercup-Crews stellen sich vor
Am Mittwoch, den 26. Sept. 2007 fand im Rahmen des Clubabends die Vorstellung ihrer Eckercup-Crews statt. Dazu waren alle Mitglieder, EC-Interessenten und natürlich speziell die Crews selbst herzlich eingeladen. Die Besucherzahl zeigte sich ausgesprochen erfreulich und ein Großteil der Crewmitglieder konnte auch kommen. Nach einer kurzen historischen Betrachtung der Ecker-1000-Meilen-Race-Entwicklung (spez. aus YCBS-Sicht) durch den Clubabend-Moderator (es war diesmal wegen Commodore-Abwesenheit der Zahlmeister), stellten die einzelnen Skipper (Hager, Hamminger, Herzog) ihre Crews, ihre Schiffe, ihre Ansätze und Hoffnungen zum Thema mit recht treffenden Beiträgen vor. Auch einige Crewmitglieder kamen mit kurzen Anmerkungen zu Wort und legten ihre Motivationen für das Abenteuer Eckercup dar. Auch YCBS-Mitglied Stefan Lackner, welcher auf dem Schiff Svibor, einer First 40.7, bei Skipper Lukas Rupsch, die 1000 Meilen bestreiten wird, erzählte kurz von den Plänen und Vorbereitungen seiner Crew. Er erwähnte auch, dass er wahrscheinlich der jüngste EC-Teilnehmer sein wird.
Die YCBS-Crews bedanken sich herzlich für das rege Interesse und sind sich sicher, dass sie nicht alleine die weite Strecke bewältigen müssen – viele gute Wünsche der Club-Mitglieder werden sie begleiten und über die moderne Technik werden einige auch von Zuhause aus am Geschehen teilnehmen und mitbangen ! In den beiden obigen Bilder sind die anwesenden Teil-Crews der RAPA NUI und der MALTA zu sehen (die KAJA-Crew ist in früheren Einschaltungen bildlich präsent – sh. unten).

22. Sept. 2007 – die Kaja-Crew geht mit letztem Treff in die Schlussphase der Heimatvorbereitungen
Berufliche und gesangliche Verpflichtungen reduzieren die KAJA-Crew bei der letzten Besprechung auf 4 Teilnehmer. Da es vorwiegend um Anreise, Navigation und Versorgung geht, ist das Wegbleiben von Georg (Maschinator) und Hannes (Trimminator) zu verkraften – wichtiger ist, dass sie beim Cup dabei sind. In München startet gerade das Oktoberfest und deswegen und wegen des herrlichen Spätsommerwetters, wirkt die Besprechungsmaterie etwas trocken und zieht sich. Als Motivation gibt es ausgleichend zur Wies'n-Verhinderung – und der bayrischen Nähe wegen – Weißbier und Brezen. Endlich stofflich fertig, stellt sich heraus, dass es auch den vorbereiteten Weißwürsten zu lange gedauert hatte – die meisten sind aufgesprungen wie Popkorn – schade !

Ende August 2007 – Ecker kündigt ein halbautomatisches Tracking-System für die 1000 Meilen an
Lt. Ecker-Email vom 22.8.2007 wird ein halbautomatisches Tracking-System installiert. Die Rückmeldungen der jeweiligen Positionen der am Eckercup teilnehmenden Yachten müssen zweimal am Tag via GSM-Handy per SMS erfolgen (um 8 und um 20 Uhr). Über Unterstützung des Erlanger Segelvereins HSGE e. V. wird eine Online-Internet-Visualisierung eingerichtet. Ein Klick auf die Karte nebenan bringt dich vor dem Cup zu einer Demo-Version !
Mit Ende August sind nun auch alle von den kroatischen Behörden geforderten Dokumente übermittelt worden, sowie auch die Rückflüge der Cup-Teilnehmer bzw. die Hinflüge der Rückübersteller waren bei Ecker finanziell zu begleichen. Als saftigerer Brocken erwies sich die Restzahlung an Master-Yachting Deutschland für 5 Wochen Charterfahrt auf der KAJA, aber dank der ausgezeichneten Zahlungsmoral der Crews gab es kein wirkliches Problem. Kontodeckend wirkte sich dabei nach der Misere bei Blu Balu im Rahmen der Fun&Family-Week (sh. weiter unten) auch der überraschend schnelle Schadensausgleich durch die Deutsche Yacht-Pool aus – eine Deckung durch diese Versicherung muss ich hier einfach weiter empfehlen.
Im späteren August 2007 – ein Wallersee-EC-Meeting der "KAJA's" in entspannter Art und Weise

Andy, der nominierte KAJA-Navigator, dirigiert die zugehörige Crew diesmal für einen gemütlichen Spätnachmittag an den Wallersee. Dort steht "La Luna" (eine Dehlya) bei Seekirchen zum Segeln bereit. Hannes kommt vom Wolfgangssee herüber. Georg reist auch alleine per Chrysler-Cabrio "Le Baron" aristokratisch an – ein Sakrileg nach Josefs Meinung. Dieser und ich kommen vom Innviertel dazu (nur Werner ist verhindert). Josef bringt ein Biergebinde mit (Tender statt Fender) und damit testen wir Georgs technisches Geschick (und wären dabei fast verdurstet). Ein paar nette Schläge am windlaunigen Wallersee werden von einem aufziehenden Gewitter kurz gehalten. Noch bevor es regnerisch kräftig loslegt, ist das Boot wieder unter der Persenning und wir schon im GH Fischtagging auf eine saure Jause und anderen Genüsslichkeiten verschwunden. So lassen wir den Tag gut ausklingen. Abschließend ein herzliches Dankeschön an die Goldgrandys (siehe Bild) für die Einladung und die netten Stunden.
Mitte August 2007 – die Crewbesprechung der KAJA-Rückübersteller fixiert einen weiteren org. Schritt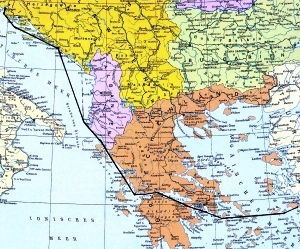 Am 11. August treffen sich die Rückübersteller der "KAJA". Auch auf diese Spätherbst-Segler (Zusammensetzung siehe CREWS) wartet eine kräftige Portion Strecke, wie die nebenstehende Übersicht zeigt, wenngleich auch die Abkürzung durch den Kanal von Korinth angedacht ist. In 14 Tagen, vom 28. Oktober bis 10. November 2007, sollen die ca. 900 Seemeilen geschafft werden.
Anfänglich wollen wir ab Samos in der Ägäis mehr am Tag unterwegs sein und später, wenn sich die Crew eingesegelt hat, spez. in der Adria mit einigen Nachtfahrten viel Strecke machen. Sollte Sibenik in den 2 Wochen nicht zu schaffen sein (z. B. wegen zu schlechter Witterung), dann erlaubt uns der Chartervertrag auch ein paar Tage Überschreitung.
Alle Notwendigkeiten werden bei der Crewbesprechung Step by Step durchgegangen und einvernehmlich geplant und fixiert. Eine zusammenfassende e-Mail soll das Beschlossene bis zum Start gegen Ende Oktober frisch erhalten, während die Crew sich bis dahin mit etwas Körperertüchtigung fit machen will.
Anfang August 2007 – EC-Besprechung der "KAJA"-Crew mit Ausklang im "Dublin"
Noch gut zwei Monate bis zum Start unserer Eckercup-Unternehmung. Das ist zwar noch nicht Count-Down-Nähe, aber einige Angelegenheiten können nicht bis zuletzt warten.
Die Crew der Sun Odyssey 45 trifft sich am 3. August in Braunau. Neben Infos über das Schiff (nach dem Test beim Törn im Juli im Rahmen der YCBS-Fun&Family-Week => sh. Eintrag unten) werden einige Abläufe besprochen, Festlegungen getroffen und Aufgaben übernommen – z.B. Ausrüstung, Finanzen, Sponsoring, An- und Rückreise etc.
Einen gemütlichen Ausklang bringt der abschließende Ortswechsel von der Sparkassenstraße (das Steh-Fasserl ist schon lange leer) zum "Dublin" in Simbach. Die hübsche Kellnerin kennt zwar kein "Irish Stew" (eines meiner Lieblingsgerichte), aber das ist ja auch kein Wunder, wird sie doch von Josef wegen ihrer sprachlich leichten Fremdartigkeit für eine Kroatin gehalten. Die Vermutung korrigiert diese allerdings mit einem gewinnenden Lächeln auf Slowakin. Na, dann starten wir den Eckercup mit ihr eben ab Bratislava auf der Donau – wär' das was für die hochmotivierte Crew ?
Mitte Juli 2007 – ein Sommertörn als Test der Sun Odyssey 45 "KAJA":
Im Rahmen der YCBS-Fun&Family-Week 2007 konnte ich mit meiner Sommertörn-Crew (= Fun-Family) die für unsere Eckercup-Teilnahme ausgewählte Yacht für 1 Woche testen, dies allerdings nur bei mäßigen Winden bis 15 kn und ausgesprochenem "Flachwasser".

Kurze Beurteilung:
Das Schiff lief gut und konnte auch allgemein im Hinblick auf den Eckercup-Einsatz befriedigen.
Natürlich handelt es sich bei der Sun Odyssey 45 um keine "Rennsau" (siehe dazu die Ausführungen unter dem Menüpunkt SCHIFFE), aber ich bin doch zuversichtlich, dass unsere Überlegungen zur Schiffswahl nicht ganz falsch liegen.
Nebenbei erwähnt sei noch, dass die Yacht für die Fun&Family-Week über Blu Balu gechartert wurde und dabei im Vorlauf Probleme auftraten (einige Abklärungen und letztlich nochmalige Bezahlung der nicht weitergeleiteten zweiten Charterrate). Hier möchte ich mich beim Schiffseigner Foka-Charter und spez. bei Herrn Kresimir Klaric für die entgegenkommende und freundliche Sonder-Abwicklung zur Rettung der Törnwoche sehr herzlich bedanken. Besonders gefreut hat mich auch der kurze Besuch seiner jüngsten Tochter bei uns am Schiff – die kleine Kaja ist die Namensgeberin für die Yacht und beide sind sehr hübsch (und die Mama übrigens auch). Leider haben sich die ersten Törnbilder von meiner Kamera-Speicherkarte irgendwie vertschüßt, sonst hättest du es hier, lieber Leser, selber beurteilen können. Ein ausführliches Stimmungsbild von der Törnwoche auf der KAJA ist übrigens auch abrufbar => Fun&Family-Week 2007 (Bericht SO45)
Anfang Mai 2007 – die brandneue Sun Odyssey 45 in Sibenik besichtigt:
Zwischenzeitlich konnte bei der Sun Odyssey 45 einiges erledigt werden. Die Yacht steht am Bock und wird gerade in der Marina Mandalina für den ersten Chartereinsatz vorbereitet (Bugstrahlruder-Einbau, Antifouling-Anstrich, Opferelektroden-Anbringung etc.). Bei einem Kroatien-Aufenthalt anlässlich der Adriatic Sailing Week konnte ich einige Dinge abklären, so u. a. den Schiffsnahmen bei Foka Nautika erfahren – das Hochglanz-Stück ist eine Schöne und heißt "KAJA" (laut Wikipedia ein weiblicher Vorname im slawischen, skandinavischen und auch deutschen Sprachraum – auch eine Kurzform von Katharina).
Hinsichtlich Abklärungen betreffend Forderungenkatalog zur Regatta-Genehmigung laufen die Leitungen heiß zwischen Skipper, Master-Yachting als Argentur, Foka Nautika als Vercharterer/Schiffseigner und Ecker als Regatta-Organisator – z. Z. ist alles im grünen Bereich, alle sind sehr bemüht und kooperativ ! Ein Termin zur Überprüfung der Yacht durch das kroatische Schifffahrtsregister wird demnächst festgelegt.
Ende März 2007 – Ecker liefert Flugplan und üppigen Forderungen-Katalog:
Eckers Flüge für Samos (hin für Rückübersteller und retour für Cup-Teilnehmer) sind nun bekannt gemacht – Euro 208,- für die Destinationen Wien, Salzburg und München per Sonntag, den 28.10.2007.

Neben Flugangeboten liefert Ecker einige nette/fette Unterlagen rund um die Erfordernisse für die Teilnahme am 1000-Meilen-Race. Wann ist was zu erledigen / einzubringen / zu begleichen, was wird wie abgewickelt – das Schreibtisch-Segeln kann voll beginnen. Die kroatischen Behörden haben die Notwendigkeitenliste mächtig aufgebläht. Spez. Skipper von unter kroatischer Flagge laufenden Schiffen (welche nicht bei Ecker gechartert wurden) sind betroffen. Viel Spass beim Einholen – die Sun Odyssey 45 bzw. ihr Skipper ist jedenfalls voll involviert.

Hier eine kleine Kostprobe der Forderungen:

o Yacht muss mindestens für Seegebiet III zugelassen sein
o Yacht muss Entwurfskategorie "A" nach EG-Richtlinie …. entsprechen
o Yacht muss Seefunkgerät mit DSC-Contr. / GPS-Verbind. / MMSI-Nr. haben
o Termin zur Überprüfung der Yacht durch kroat. Schiffsregister ist zu org.
o eine gültige Versicherungsbestätigung ist für die Yacht beizubringen
o eine Ship Station Licence = Funkanlagen-Betriebserlaubnis ist beizubringen
o eine Charter-Konzession des Vercharterers ist beizubringen
o eine Yacht's Register-Bestätigung ist beizubringen
o ein Certificate of the yacht ability for navigation ist beizubringen
o ein Record of particulars to certificate of the yacht ability for navigation
o eine volle Liste weiterer Details zu Schiff und Crew ist zu liefern

Anfang März 2007 – Aussage am Ecker-Stand bei der Bootsmesse in Tulln:
Eine Anfrage hinsichtlich Installation eines Tracking-Systems zur Standort-Bestimmung der Schiffe während des Eckercups und der Einbindung im Internet erbringt dies: Ecker plant eine entsprechende techn. Einrichtung für alle Schiffe und es soll dann auch für die Daheimgebliebenen eine Online-Beobachtung des Regattaverlaufes über das World Wide Web möglich sein. Momentan laufen entsprechende Gespräche und Bemühungen zur Realisierung. Für Ende März ist eine Ecker-Info u. a. auch zu diesem Thema geplant.
22. Februar 2007 – es gibt Zuwachs im YCBS-Kader – 3. Schiff für EC-Teilnahme gemeldet:
Die YCBS-Vertretung beim nächsten Eckercup wird verstärkt. Nach den Meldungen durch Manfred Hamminger (Sunbeam 42 c) und Anton Herzog (Sun Odyssey 45) steigt nun eine 3. Crew um Skipper Walter Hager (Dufour 44 Performance) in den Langstreckenbewerb ein (mehr unter CREWS). Zweifellos ist die neu hinzu gekommene die schnellere Schüssel der 3 YCBS-Schiffe. Dies drückt sich spez. auch in der vorläufigen Yardstick-Einstufung aus: 526 > Dufour 44, 565 > Sun Odyssey 45, 640 > Sunbeam 42 ! 
7. Februar 2007 – Ecker verlegt den Start von TROGIR nach ZADAR:
Schön ist es nicht, aber Ecker erwartet auch weiterhin viel Fexibilität von seinen Kunden. Schon sind dort und da Flüge und anderes gebucht, trotzdem verlegt Ecker seinen Regattastart von Trogir nach Zadar und begründet dies mit den mangelnden Platzverhältnissen in Trogir. Hier bleibt als Kommentar nur diese Frage: Wie lange ist Ecker schon im Charter-Geschäft und kennt das Platzangebot im eigenen Stützpunkt Trogir ? – 10 Jahre sind wohl nicht zu hoch gegriffen !
Anfang 2007 – Crewbesprechung für weitere organisatorische Festlegungen:
Am 13. Jänner trifft sich die Crew der Sun Odyssey 45 im Terrassenstüberl der Sparkassenstraße. Das Schiff steht fest und nun gilt es alles durchzugehen, was in nächster Zeit bzw. rechtzeitig festzulegen und zu erledigen ist. Es geht um Besprechung von vorhandener Ausrüstung, notwendigen Besorgungen, Vorentscheidungen hinsichtlich Anreise und Rückflügen, Sicherheitsausrüstung, Seekarten, Revierführer, Termine, Finanzen, Vorlaufwoche, Regatta und Rückstellung der Yacht usw.
Zum Abschluss der Besprechung ist Stärkung angesagt. In Anlehnung an Eckers/Hafners schon traditionell gewordener Versorgung beim Cup-Zwischenstopp gibt es Leberkäse (sicherheitshalber schon jetzt – es könnte ja sein, dass wir zu spät nach Katakolon kommen und nichts mehr erwischen) und Stiegl vom Fass. Die Crew ist zumindest von der Kopfbedeckung her schon bestens und funktionell weitgehend passend gerüstet (v.r.n.l.): Georg, Andy, Werner, Josef, Hannes, Toni.
Advent 2006 – warten auf ein erlösendes Charter-Angebot:
Das sind grob die Vorstellungen zur Schiffswahl für unsere Eckercup-Teilnahme:
o ein Standardschiff mit mäßigem Yardstick-Faktor, dafür aber rundherum OK, d. h.
o Schiff und Segel NEU = Baujahr 2007 (noch keine ausgeleierten Charterfetzen)
o Erlaubnis/Risikodeckung zur Teilnahme am Eckercup = Offshore-Regatta mit Auslandsfahrt
o Crewwechsel in Griechenland für Rücküberstellung erlaubt
o Rollgroß wegen stufenloser Reffbarkeit (Erfahrung aus früheren Eckercups)
o 4-Kabinien-Version (=ausreichend Einzel-Schlafplätze bei starker Krängung)
o je 1 Toilette auf jeder Schiffsseite (besser daneben gepinkelt, als über Bord gefallen)
o entspr. weitere Schiffsausstattung > Rettungsinsel, Spibaum, Sprayhood, GPS-Plotter etc.
Die Anfragen gehen hinaus. Bei Ecker sind die in Bedracht zu ziehenden Yachten schon weg. Nun bekommen 4 Charterfirmen ihr Fett ab – ihre Aussage: "ECKERCUP, NEIN DANKE !" > Blu Balu, Müller Attersee, Yachtcharter Pitter, First-Yachts winken also sofort ohne Angebot ab (Boykott?). Andere bemühen sich sehr, z. B. stellvertretend Yachtcharter Kreindl (aber die Angst vor den kroatischen behördlichen Auflagen verhindert einen Erfolg). Letztendlich schafft es Master-Yachting Deutschland, und hier gilt mein herzlichster Dank Frau GF Andrea Barbera, ein zutreffendes Schiff zu einem außerdem vernüftigen Preis, sozusagen als Weihnachtsgeschenk zu aquirieren:
Eine SUN ODYSSEY 45, Baujahr 2007 ab Šibenik / Marina Mandalina wird für 5 Wochen vereinbart.

Oktober 2006 – eine Eckercup-Crew testet sich bei der AOC:
Die Adriatic Offshore Challenge 2006 dient uns als eine Art Generalprobe. Bei Charter einer FIRST 47.7 ist für den Eckercup zwar schon das Jahr 2007, aber noch Triest > Katakolon > El Alamein aktuell – zum AOC-Zeitpunkt allerdings dann Trogir > Katakolon > Samos. Die Crew schlägt sich gut (sh. Berichte Nachlese AOC 2006 von Andy Goldgruber bzw. auch mein Antes Backtrack at Two-Zero-Zero-Six). Das Schiff wollen wir für den Eckercup doch nicht (kein Rollgroß, zu stark im Faktor, es geht voraussichtlich, da durch die Ägäis, wieder viel gegenan) – hier denken wir eher an ein schlechter eingestuftes, dafür aber neues Schiff. Ob die Überlegung aufgehen wird, dass bleibt abzuwarten.
September 2005 – CSI-Cup als Test einer Grand Soleil 45:
Eine Crew für die spätere Eckercup-Teilnahme steht vorläufig (sh. oben > Link CREWS). Als überschaubare Regatta nutzen wir den CSI-Cup für erste gemeinsame Wettfahrten ohne Spi. Als Schiff wollen wir eine Grand Soleil 45 testen (sh. Bericht CSI-Cup 2005). Zum Zeitpunkt der CSI-Veranstaltung ist für den Eckercup der Herbst 2006 mit Trogir > Katakolon > Istanbul aktuell, was nicht so bleibt – sh. Ecker-Entscheidungs-Dramaturgie oben > Link PROLOG). Für den möglicherweise harten Amwind-Kampf durch die Dardanellen und das Marmara-Meer scheint eine andere Schiffswahl sinnvoll.
November 2004 – der Virus schlägt erbarmungslos zu – dazu brauch ich eine Crew:
Erste Ankündigungen durch Ecker scheuchen die Segler aus dem kaum begonnenen Saisonende-Schlaf. Die Ganglien beginnen zu rotieren – soll ich, oder soll ich nicht? Meine Frau Elisabeth bekräftigt mich (ich glaub, sie hat jetzt schon mehr Regattafieber, als ich je haben werde). Erste Kontakte werden genüpft, eine erste Anfrage-Email geht hinaus:
Hallo Sailing-Fan !
Die besprochene Teilnahme am CSI-Cup 2005 im September ist nun für mich klar. Jetzt geht es um eine erste Information und um ev. Fixierung der Teilnehmer (mit Hinterkopf-Gedanken Test für den nächsten Eckercup). …..
Der ausgeworfene Köder lockt beachtlich und formiert bald eine starke Crew.
Fünf Eckercup-Teilnahmen sind genug, dachte der wellengebeinigte Autor, um dann doch wieder dabei zu sein.
Möge das Ecker 1000 Meilen Race 2007 gut gelingen !

Den Crews Mast- und Schotbruch mit viel Erfolg und den Surfern daheim recht spannende Stunden wünscht 
Toni
Herzog
alias
Ante
Dalmatinac