Michael Puttinger hat sich Großes vorgenommen: Mit seiner 34-Fuß-Segelyacht Webik will er Afrika auf eigenem Kiel umrunden und dabei eine Menge erleben.
Wo sich die Sunbeam 34 S gerade befindet, das kannst du hier abrufen – und etwas ergänzende Informationen fallweise auch. 
Klicke dazu auf den nachfolgenden  MarineTraffic-Link  für eine meist aktuelle Position (in Küstenferne gibt es allerdings öfters keine AIS-Daten zur Ortung im Internet).
---
….
Ein paar Informationen von der faszinierenden Reise werden fallweise hier ab der Südspitze des Kontinents eingetragen. Zudem kannst du in der Jänner-Ausgabe der YACHTREVUE ab Seite 38 einen großen Beitrag zu Mike's Afrika-Rundung lesen. Ein verkürzter Vorgeschmack dazu lässt sich online auf  yachtrevue.at  abrufen (oder gleich hier komplett als  SONNE, WIND, MEER  erklicken).
Ein interessanter Artikel erschien auch auf meinbezirk.at bzw. in der Braunauer BezirksRundschau. Weitere Infos findest du auch im YCBS-Bericht vom März-Clubabend 2021. Mike's eigene Homepage solltest du dir eventuell auch einmal ansehen: https://www.wind-driven.com/location/circumnavigating-africa !
Nun aber hier nachstehend die laufenden Einträge – der momentan aktuellste Beitrag obenauf:
……
---
….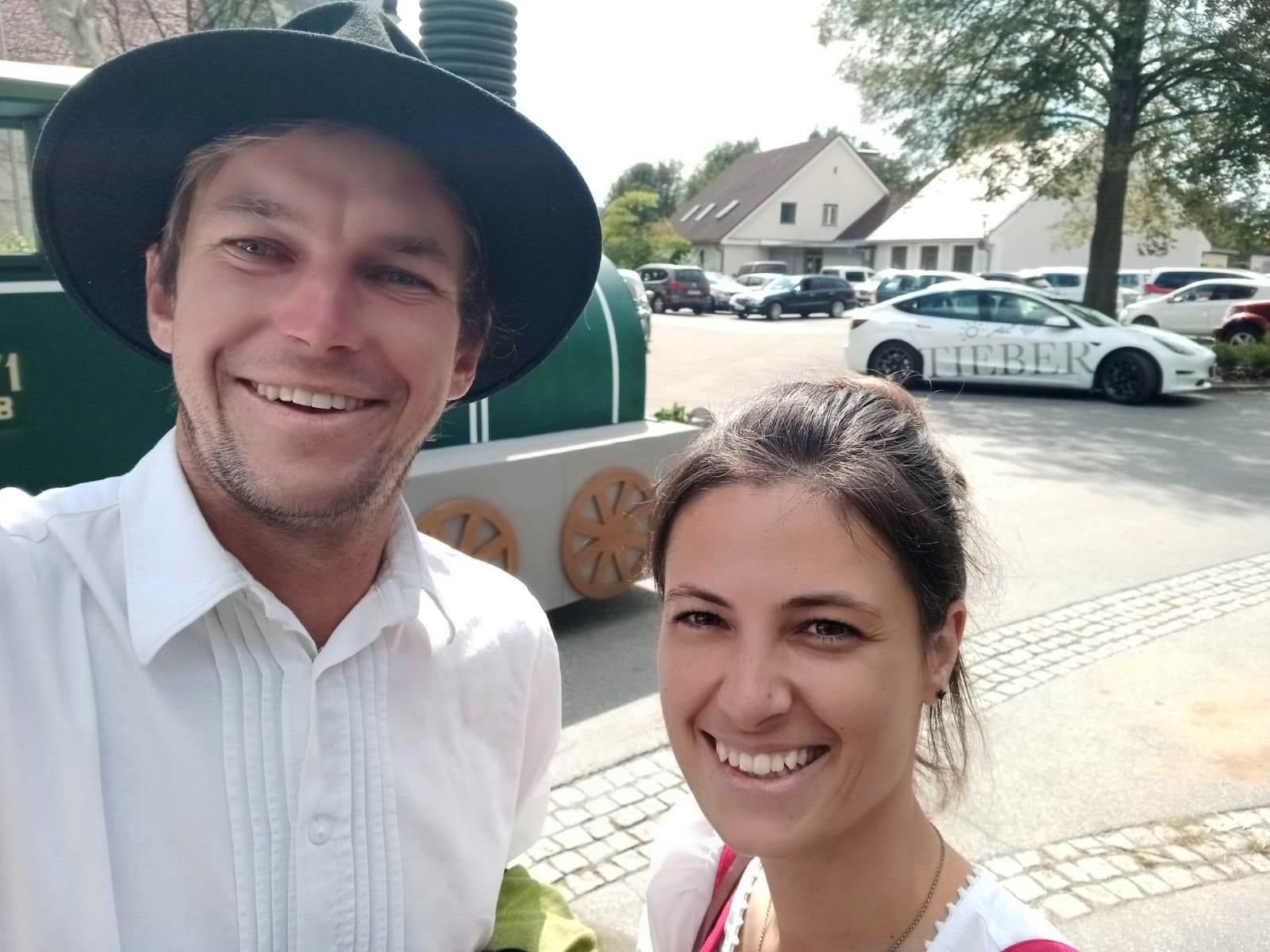 Ab 04.09.2022:
Trachtige & arbeitssame Heimatpause bis Ende September !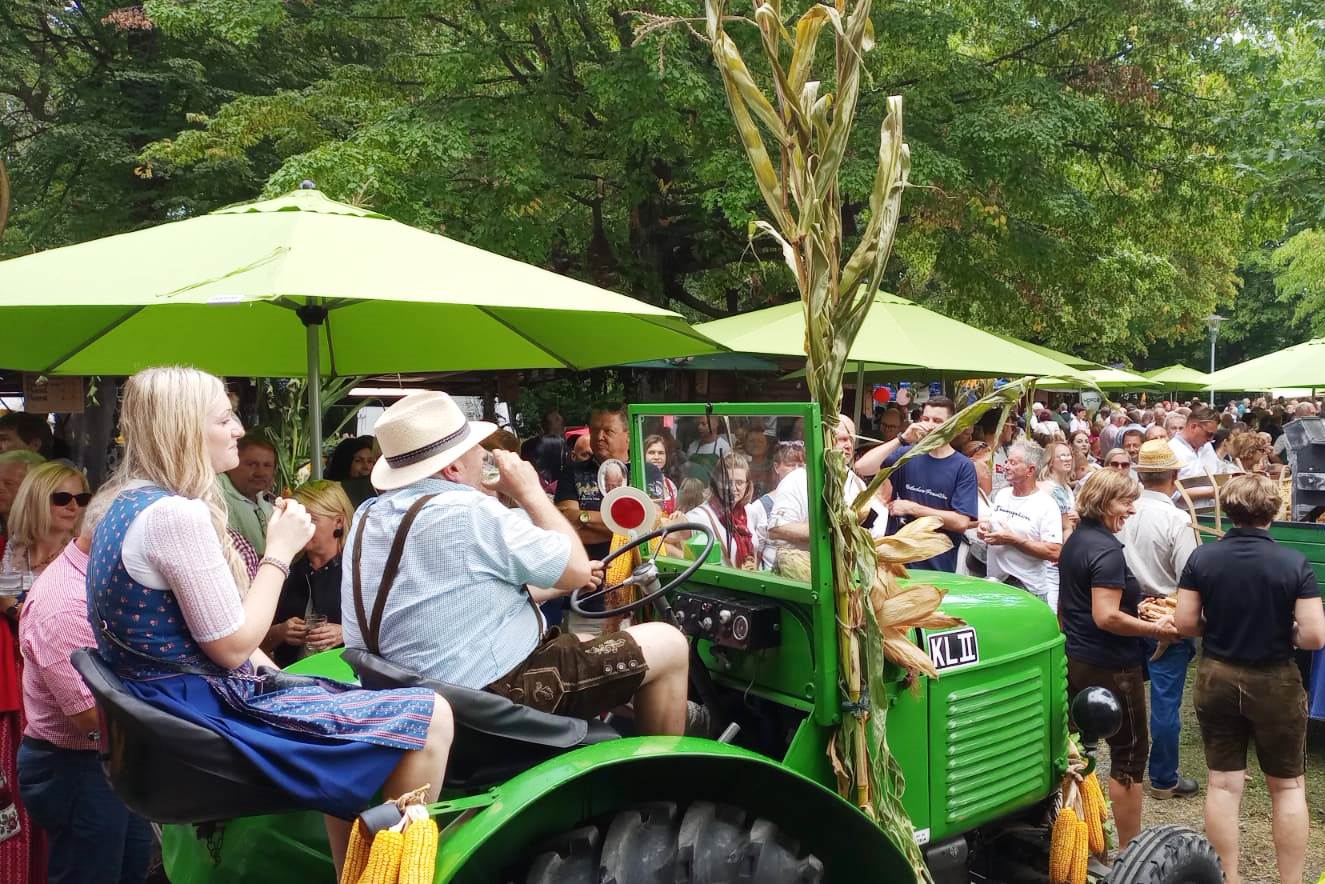 Michael meldet sich aus seiner Innviertler Heimat. Ob er dabei auch als "Skipper" auf dem wunderschönen 26er Steyr Oldtimer-Traktor im Einsatz war, das ist nicht übermittelt:
Landed well @homesweethome. A lot of action and work lies ahead until i go back onboard Webik end of September to rock Sicily, Apulia and the Adriatic to the final sprint. Hope to meet you all soon! Have a good sunday evening!
Zudem geht eine Einladung zu einem großen Ankunfts- und Abschlussfest ins Netz:
Ladies and Gentlemen!
It´s time for Party! Wie bereits versprochen, hier die
Einladung inkl. Program für das Rund Afrika Fest in Pula am Freitag 28. Oktober 2022.
Ich würde mich freuen, so viele wie möglich von euch dabei zu haben, wenn Webik wieder in ihrem Starthafen ankommt! Zur leichteren Organisation bitte bei diesem Link anmelden > https://forms.gle/Tx4fWzrcCJmREfTt9
Auch alle YCBS-Mitglieder sind herzlich eingeladen nach Pula zu kommen!
…
---
….

02.09.2022:
Mit Trapani ist nun sizilianischer Boden unter den Füßen ! 
Am 1. September zu Mittag geht der Anker vor Marettimo hoch und fällt dann für eine Nacht und den Vormittag in der Südbucht Baia del Preveto der Insel Favignana, also dem Homerischen Ziegen-Eiland, von wo aus dem Epos nach Odysseus nach Sizilien übersetzte und dort die verhängnisvolle Begegnung mit dem einäugigen Zyklopen Polyphem hatte. Wieder gegen Mittag bricht die Webik neuerlich auf und steuert Trapani im Westen von Sizilien an, wo sie am späteren Nachmittag eintrifft.
Micheal schreibt:
Following the exploration of the beautiful Egadi Islands (West of Sicily) Webik docked at Trapanj, Marina Artuto Stabile where we were welcomed friendly today evening. At Webiks stern is the shipyard of "Brigantes", an Austrian wind-powered cargo project and the next sister ship of "Tres Hombres". -still some work ahead before it will sail coffee and rum through the atlantic. Without Caribbean rum and coffee, we enjoyed the last evening of the mid-med tour at Erice, an ancient mountain town above Trapani with more locally tastes. It was superb and the cableway to the village already reminds us to Austrian mountain idyll.
Cheers to all! Webik
….
---
….
31.08.2022:  Gute Ankunft bei der Ägaden-Insel Marettimo im Westen von Sizilien! 
Am frühen Nachmittag fällt für eine Mittagspause der Anker in der Scalo Maestro und danach verholt sich die Webik in den gleichnamigen Hauptort der Insel Marettimo. Michael berichtet:
Webik arrived well at Marettimo following a calm passage thanks to its crew performance. The med delivered another times with changing calms from various directions mostly from ahead. So we hardly could replace the engine by full sails. But happy to be already next to the uplined berth for Webiks september stay at trapani and just in time to catch the online meetings ahead.
Todays credits are fully for Yann! Congrats Yann to circumnavigate in a 4m dinghi! Me and Verena got friends with you in Richards Bay, South Africa and you were Webik's wing dinghi until St. Helena, South Atlantic! If one thing is true, then that there is always a frenchman who is doing things still much more grazy than yourself. However, not mentioned in the article (https://orf.at/stories/3279333/) that you did the Cape of Good Hope on the road which was a wise thing! And i know that you are already working on the next project! Vive la france! Cheers Yann!

…
---
….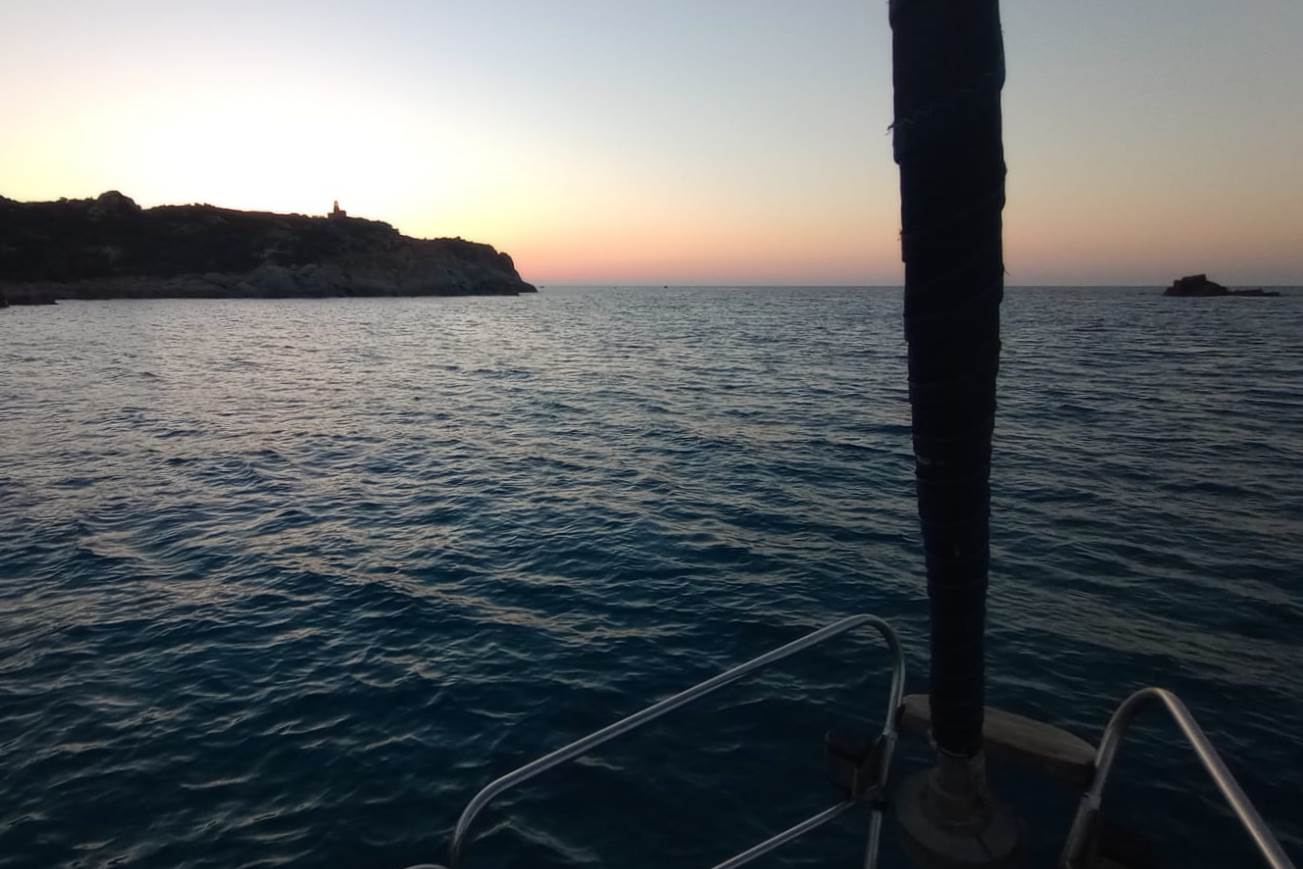 29.08.2022:
Das Sardinien-Intermezzo ist vorbei – Sizilien liegt an ! 
Zu Mittag verlässt die Webik die Insel Sant' Antioco und steuert um den Süden von Sardinien herum. Um 18 Uhr liegt das Capo Spartivento mit dem Leuchtfeuer an Backbord und damit beginnt die Passage hinüber nach Sizilien. Michael schreibt:
Arrividerci bella sardinia! Webik is out on her last mid-med cruise stretch to Trapani, Sicily. Next stop en route Merittimo, before Austria is calling again.
I hope you all had a good start into the week, cheers from martin, carina and mike!
…
---
….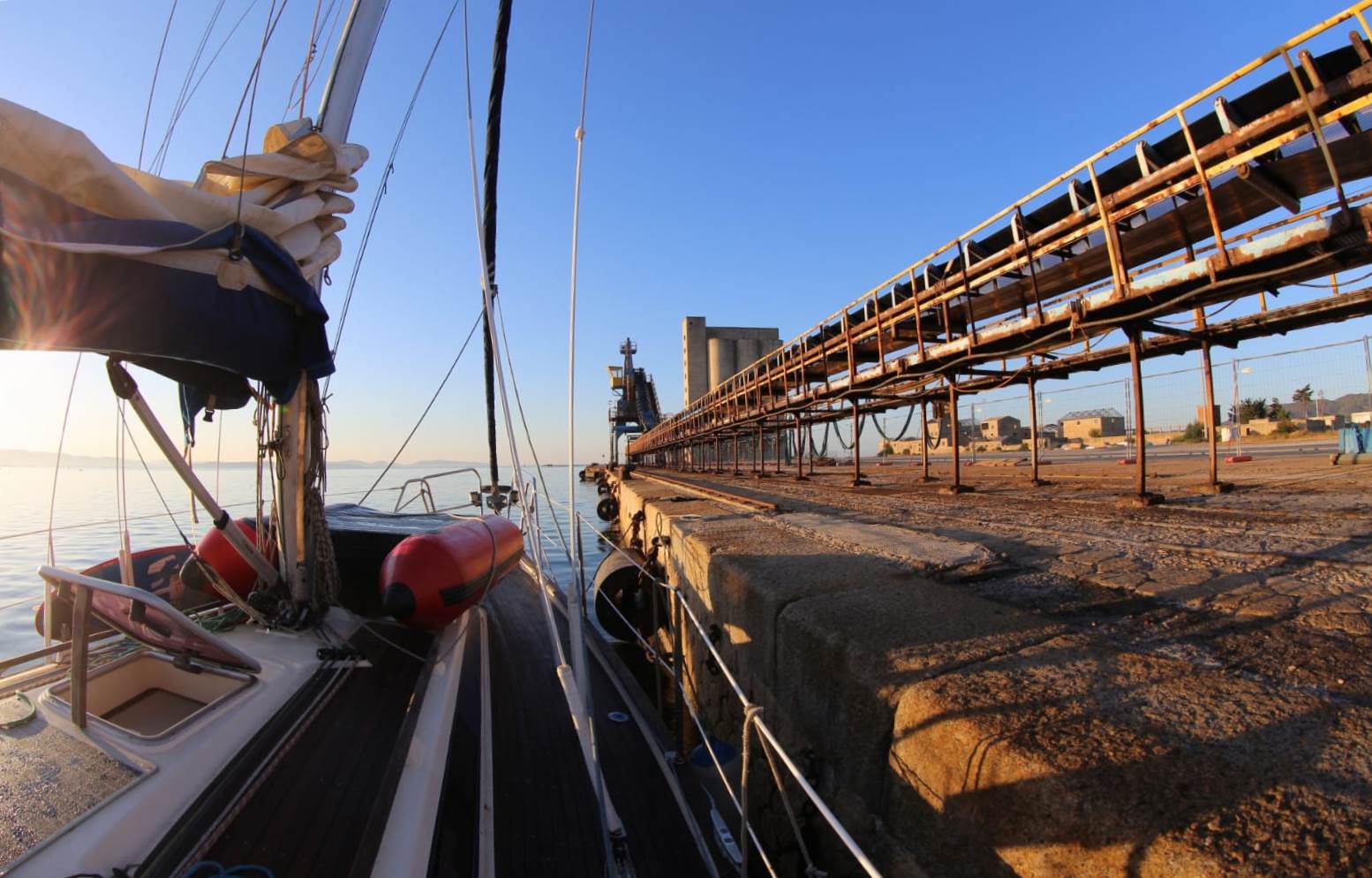 28.08.2022:
Die eine Seite der Medaille und die andere ! 
Die Webik liegt an der Pier von Sant Antioco im Süden von Sardinien und der Skipper berichtet:
Webik takes a break at the charming town of Sant Antioco on the same called island, which is connected with an ancient manmade Isthmus to Sardinia's south west corner. The free berth is in the industrial port in front of officio maritimo, which has already seen much busier times. Very sad is the current use of the harbour: since we are here (friday evenning) two refugee boats were towed in and were added to one already alongside the peer. The latest arrived a few hours ago with 18people onboard. Knowing many people personally in africa who suffer, but also many who are proud of their countries and keen to develop it, it is depressing seeing the people who do not see a perspective in their homeland and rather buy an expensive livethreatning chance into west. I wonder what they dream off and i wonder what will happen next. Some are cheering and having their arms up while doing their first steps on EU soil, but will this mood last? Frontex, EU border control was on duty, but didn't want to answer any of my kind formulated question about the situation. They were offensive and asked who I am and why I want to know this: My answer was easy but wasn't commented again: "I am EU citizen, like you, and I am here with Webik, the austrian-, EU flagged boat there, which sailed arround Africa with the aim developing renewable perspectives for communities along its route." …I think we are not done yet!

…
---
….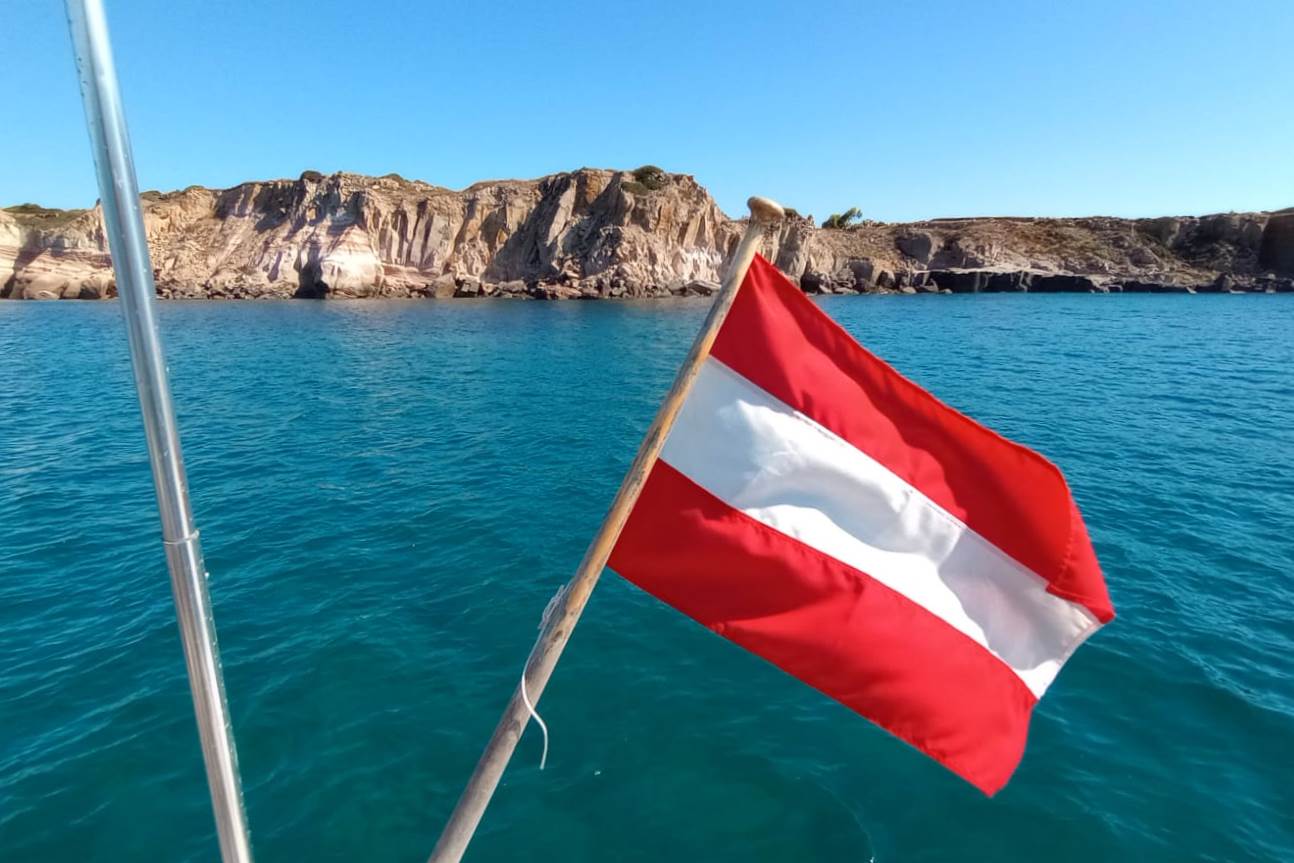 26.08.2022:
Bilderbuch-Morgen als erster Sardinien-Eindruck ! 
Die Webik war gestern spätnachts vor Anker gegangen und heute begrüßt uns Michael und der junge Morgen:
Today's morning greeted us with a beautiful view of the bay where we dropped anchor in the dark night. Now we are drifting along the west coast of Isla Antioco southwards in search of a next anchorage.
Have a good start in your weekend all!
…
---
….

25.08.2022: Nächtliches Ankern an Sankt Peter vor Sardinien ! 
Die Webik hat die Überfahrt von Mallorca nach Sardinien gut und schnell geschafft. Noch vor Mitternacht schreibt Michael:
Webik arrived safely at southwest Sardinia, anchor dropped at St Pietro island, south of Carloforte. It was a pleasant passage with lot of dolphins and still some sailable miles in between having 'the clock' on 3cylinders ticking. One small bonito was the total catch, I didn't know that such small bonitos exists but I guess i will have to get used to it again… Still very delicious! Gingin, Webik

PS: Eine herzliche Gratulation zur guten Ankunft kommt diesmal von WEBer Ante aus Berlin !
…
---
….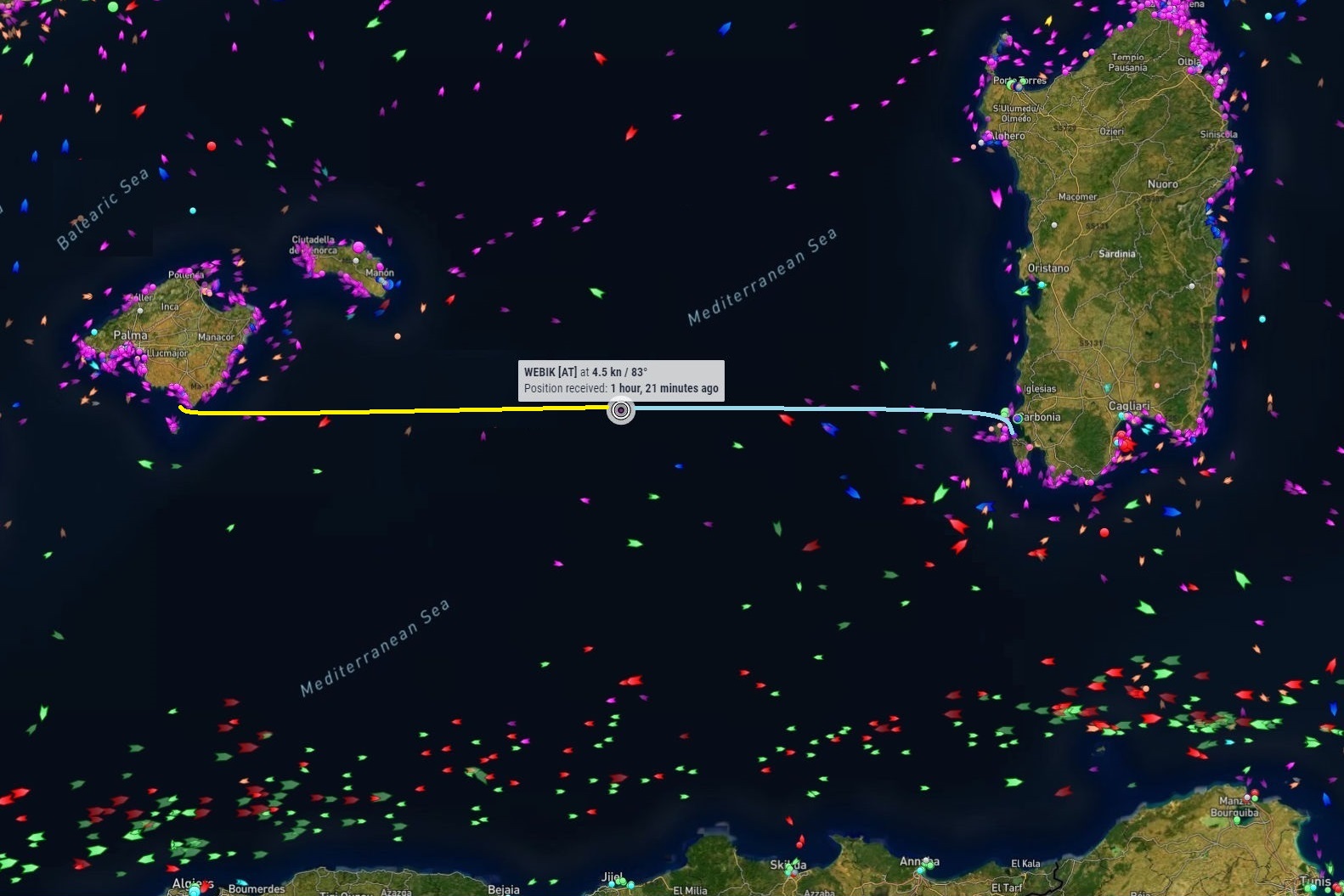 24.08.2022:
Halbzeit zur abendlichen Prime-Time ! 
Die Fahrt durchs Mittelmeer von Mallorca nach Sardinien geht für die Webik zügig voran. In Zeit im Bild gibt's zwar keine Meldung, aber das AIS und die Satellitenunterstützung geben den Stand preis: Die halbe Strecke ist an diesem Mittwoch abends bereits geschafft.
Beim YCBS-August-Sommerstammtisch in der Schlosstaverne in Ranshofen können die Besucher die Gläser auf die wackeren Mid-Med-Crosser erheben und auf das Wohl der Webik-Crew anstoßen.
…
---
….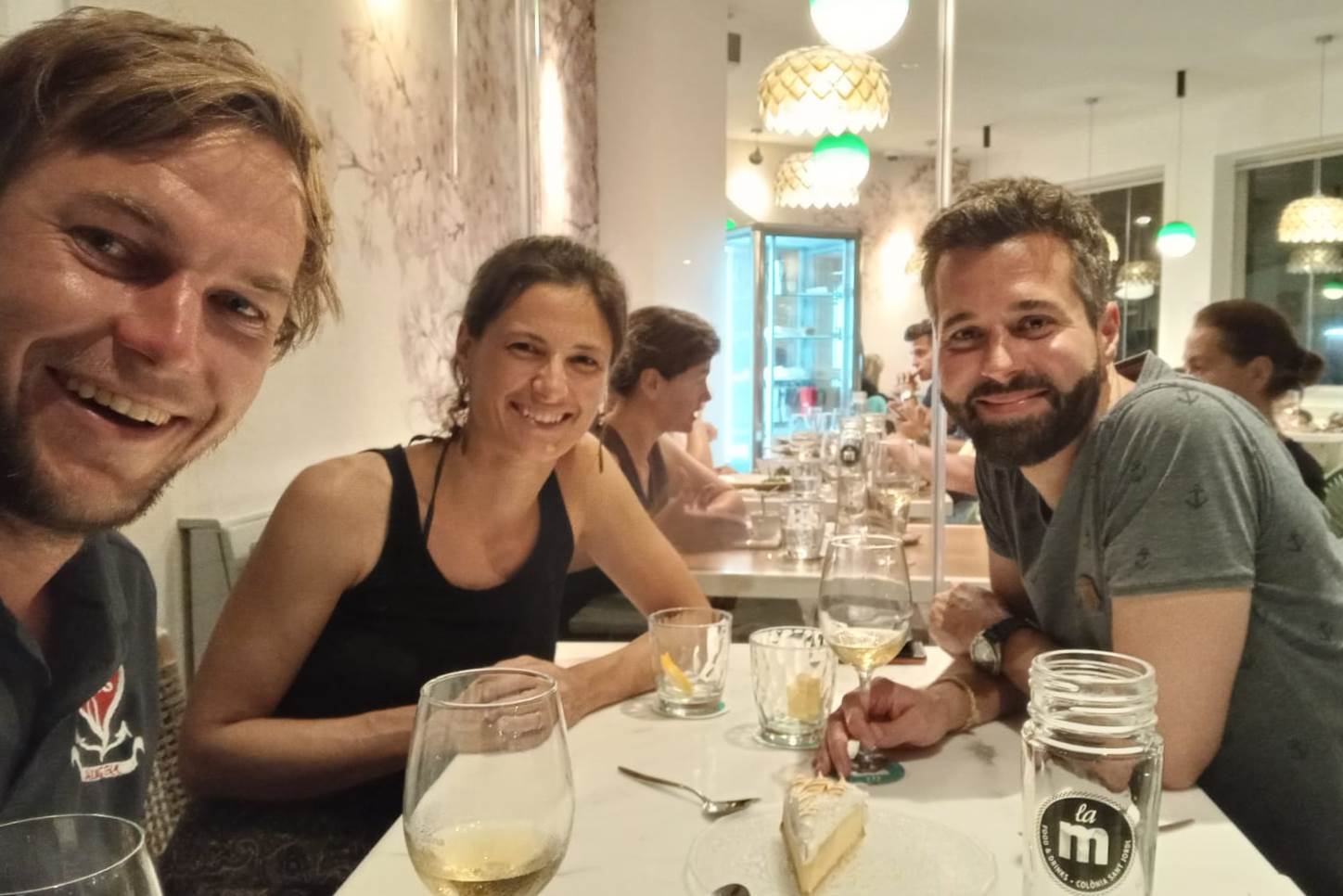 23.08.2022:
Eine Crew-Verstärkung für die Fahrt nach Sardinien ! 
Bis Mittag ankert die Webik im Süden von Mallorca in der großen Bucht von Colonia de Sant Jordi im Flachwasser. In der Zwischenzeit hat die Crew Zuwachs bekommen – der Skipper meint dazu:
Cheers from Webik. Welcome Rene, alias the mid-med-crossing crew!
PS: Wer bei Zuwachs an Nachwuchs denkt, der liegt falsch. So schnell geht es beim jungen Paar auch wieder nicht!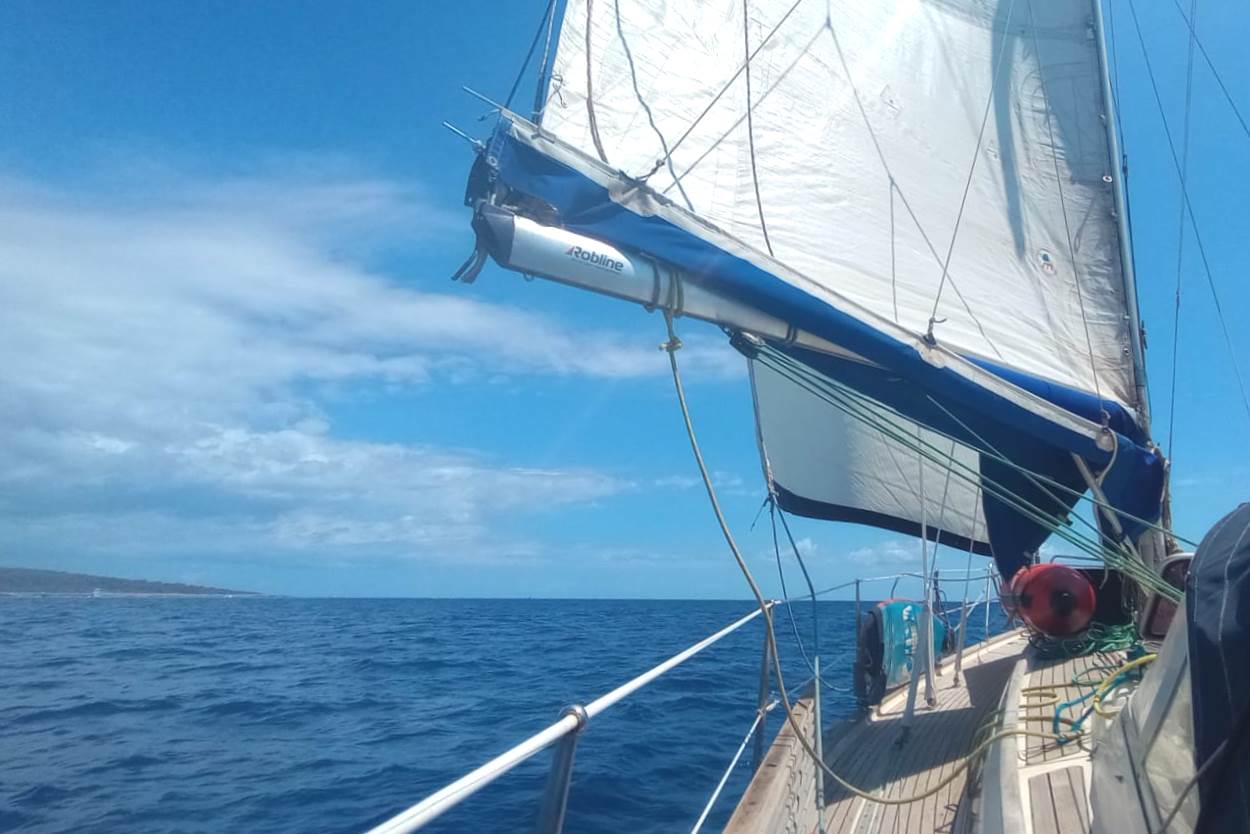 Um 14 Uhr kommt eine Aktualisierung herein. Das Bild zeigt, dass die Webik gleich das salzige Cabo ses Salines, also die Südspitze Mallorcas passiert und nun die Überfahrt nach Sardinien anpackt.
Rund 250 Seemeilen freies Wasser liegt nun vor ihr und vor der Crew – der Kurs ist recht genau 90 Grad, also Ost bei Ziel Carloforte im Süden Sardiniens.
Der Bildkommentar meint:
Webik is off for her mid med crossing. ETA Carloforte/Sardinia Thursday 2359.
Da möge der liebe Äolos hoffentlich passende Winde bereitstellen. Good luck !
…
---
….
22.08.2022: Eine neue Woche und ein neuerlicher Aufbruch ! 
Hard to leave this place. But glad we found it. Monday is calling and meetings scheduled. Also time for a crew swap and to prepare Webik for her mid-med crossing. Landlines cut, anchor up! Have a good start in the week!
….
---
….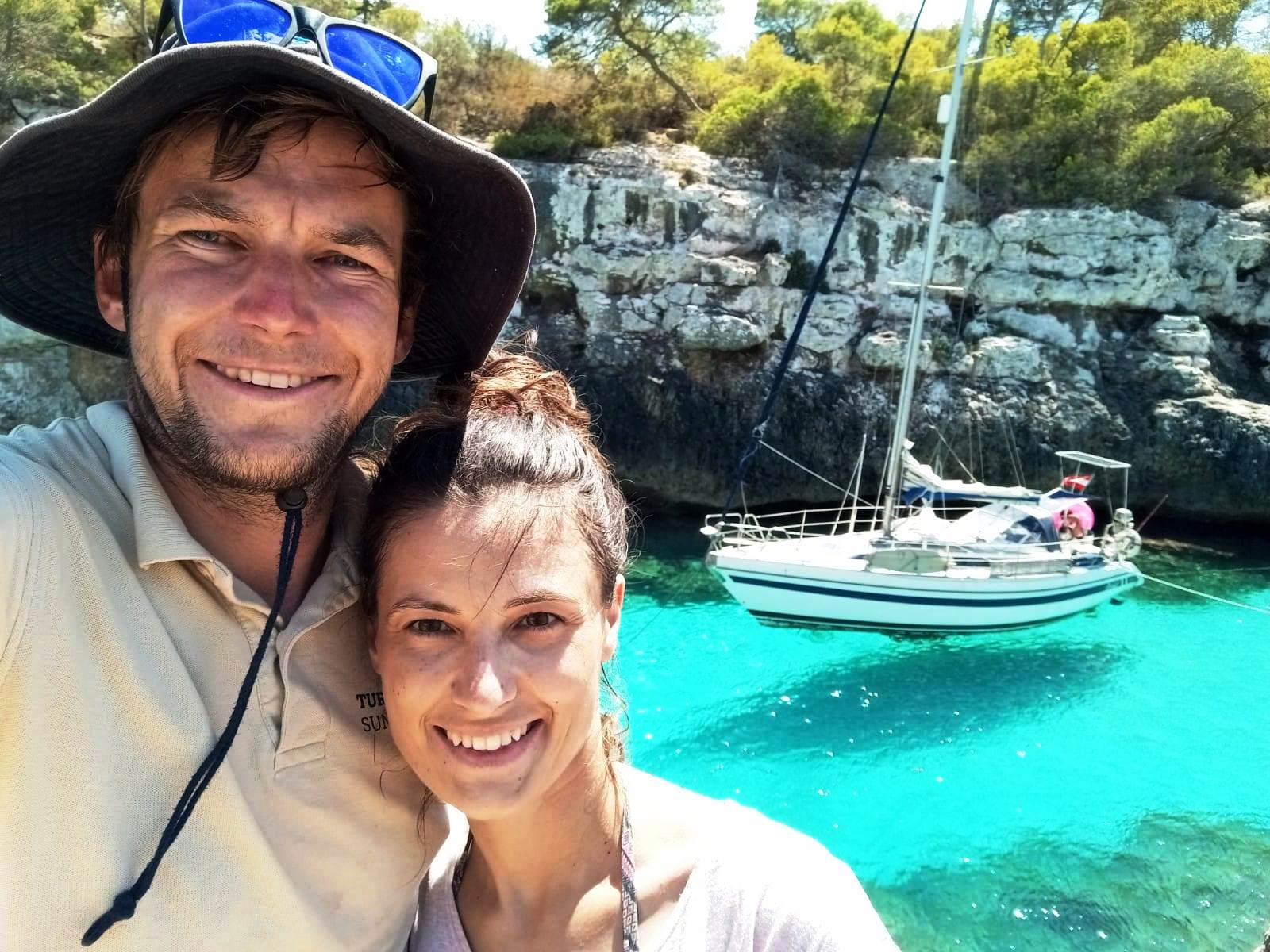 21.08.2022: Mallorca Süd
Webik schwebend in der Cala Beltran ! 
Gleich neben der bekannteren Cala Pi zieht sich die schmälere Cala Beltran in den felsigen Süden von Mallorca. Hier schwebt nun die Webik in Türkis:
Following a smooth steady night sail on full sails, Webik dropped anchor in Mallorca this morning.
Have a beautiful sunday all!
…
---
….
20.08.2022:  Abschied von Ibiza – Mallorca wartet – auf zu neuen Ufern ! 
Asta luego Ibiza and Formantera! You will remain special to us, and beside showing us your grazy super yacht tourism, your bays gave us shelter from some heavy squallsll the last days and also let us experience some privacy in your turquoise warm waters where we got succesfully engaged. Btw: verenas freediving skills are highly needed here, (also beside diving a special ring from 11m): Ibiza recognizes the importance of its seagrass, if your anchor or your chain touches seagrass you could get fined. They are serious! Good to have an anchorwoman who can utilize some disconnected mooring blocks on the ground… Another beautiful day with Webik ends our stay arround Ibiza, we are off towards Mallorca.
Thank you all for your lovely greetings! Cheers, Webik


…
---
….
19.08.2022:  Webik-Romanze oder Eine Bildgeschichte ohne Worte ! 
Am Abend kommt diese kurze Positionsmeldung: From Webiks bow we already can see mallorca!
Und dazu noch eine hochbrisante Bildgeschichte – so geschehen zuvor auf Ibiza im August anno 2022:


Ein Bildklick bringt die Details klarer hervor !
Den daraufhin zahlreich erfolgten herzlichen Gratulationen in der Whatsapp-Gruppe schloss sich auch Commodore Klaus Schäfer für alle YCBS-Mitglieder gerne an, indem er schrieb:
Alles Gute Euch beiden von der YCBS-Brücke !
Happy weekend start and love to all from Webik, anchored @ Cala Negra, E – Ibiza!
…
---
….
17.08.2022:  Im lauten Ibiza kommt Sehnsucht nach Afrika hoch ! 
Am Abend schreibt Michael aus der Cala Llonga von der Südostseite der Insel Ibiza:
We miss Africa! Webik dropped anchor in Ibiza. Where waves are rather caused by huge ugly loud motoryachts then from wind and where bays are chosen because of overpriced food and drinks rather then shelter from wind. Paradise is for everyone different. For us its hard to find here, especially when comming from Africa!


…
---
….

16.08.2022:  Formentera als erster Balearen-Stopp ! 
Mittag ist kaum vorbei, da kommt über das Formentera-Netz folgende Whatsapp-Nachricht mit Bildern – die Cala Saona wird der türkise Ankerplatz:
Webik has landfall at Formantera, south Baleares. 250nm in 48h is the happy result of a good sailing pace, thx to following winds and seas! Yesterday on the radio we listened to a rescue mission where a cargo ship found 3man with a jetski far off the algerian coast. They were origin marokko and drifting since !! 3days!!! in the open water, – luckilly all survived! Webiks ride was less dramatic but still windy and choppy at times. Verena got seasick once more and was suffering. Her handicap is a reason why we consider giving Webik to a new owner after the finish of the african circumnavigation, without to quit our together passion and love for the sea and with our beautiful memories of sailing! Nothing will stop us continuing with sailing, but it should not be our only together holiday plan for the years ahead. For now we try to enjoy every moment on Webik, which is currently very easy: Big dolphins just made the 'usual' greeting ceremony, jumping meters high in front of Webik while I am peeling potatoes for the catch of the day 'MahiMahi' (Goldmakrele), mediterranean spiced. It will soon go into oven and fill the hungry crew. Que approveche!

Durch Klick in die Bildmitte wird der Delphin-Besuch etwas lebendiger!
….
---
….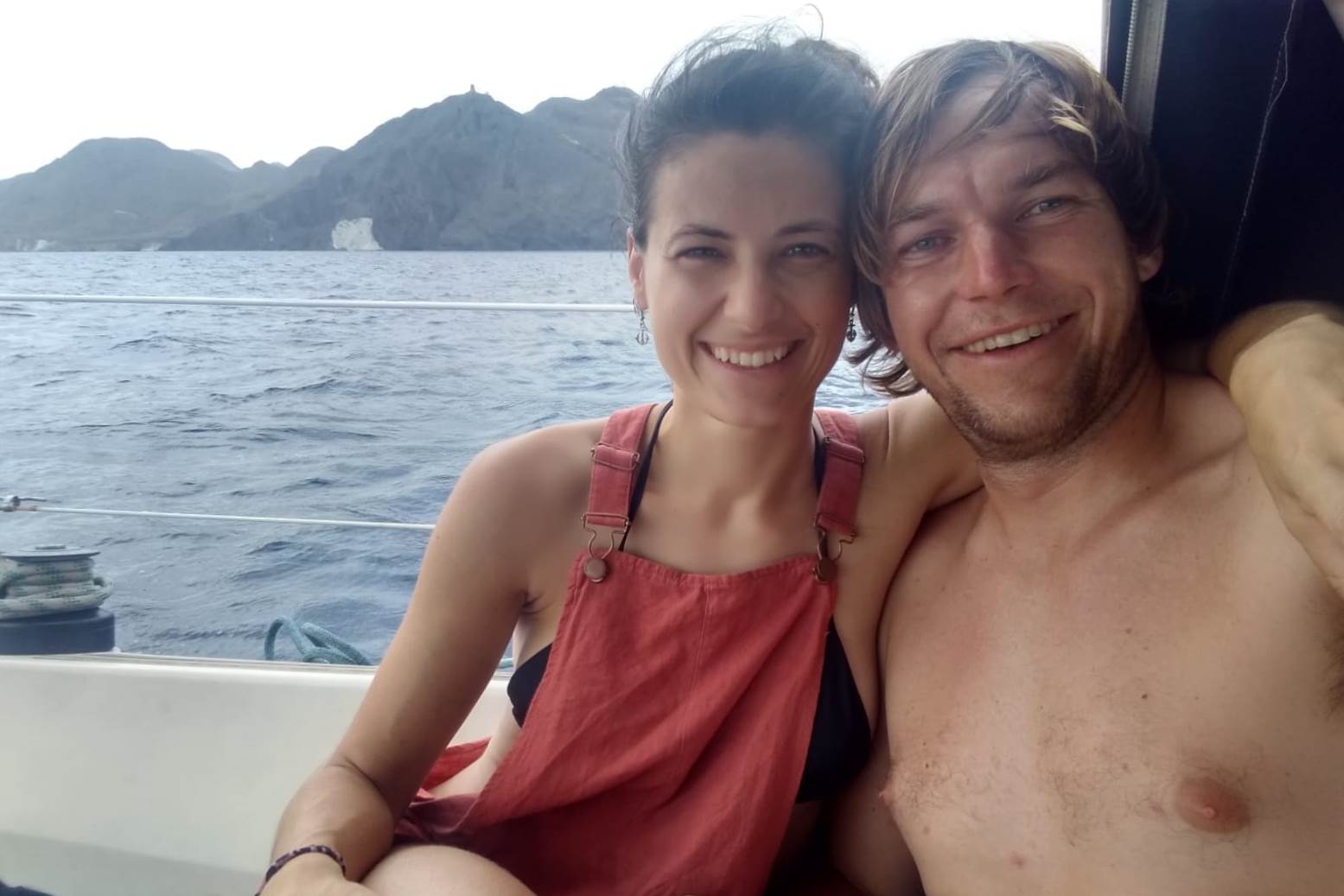 14.08.2022:  African Queen is sailing with me ! 
Auch die neue Crew der Webik darf sich noch ein Weilchen an der andalusischen Küste erfreuen. Michael schreibt:
Webik just passed Cabo de Gata, SE corner of spain. Adjusting course northwards. Happy sunday all!
Die Sonntagswünsche schicken wir gerne zurück und wünschen dem Skipper eine gute Passage und schöne gemeinsame Tage mit seiner African Queen.
…
---
….

13.08.2022:  Mani, happy Birthday to you ! 
Aus Andalusien wird berichtet:
Webik is in Almerimar and is getting ready to rock "Poniente", the westerly wind along the Spanish coast. It was Levante from the east, that slowed us down a bit this week, but also allowed us to explore the beauty of Andalusia in deep. Not only the landscape, but also its people are special to Webik. Big hugs in this regard to Andres and Thays, a beautiful Andalusian couple, which already sweetened my lonesome anchorquarantine in Seychelles, two years ago, first with delivering an urgent needed sim card and later inviting me for occasional Surf and Sushi escapes on the catamaran "Discovery", which was and still is their work- and sailplace for parts of the year. Andres and Thays were one of my dearest fans of the Webik Accordeon Radio music sessions during quarantine and are since then part of the Webik family. Sailing now in their homewaters, they not only supplied me with pointers, but also borrowed us their car which brought Webiks crew safe to Alicante and back. The friends-fishermen-tapas-crew signed off today, following Manuels great birthday party in the Volvo Ocean Race Village of Alicante.
Anchorwoman Verena signed on and is back onboard. With her Webik will head to the Baleares tomorrow!
Muchas gracias Andalusia, Vamos Webik!
…
---
.
10.08.2022:  Grüße von Andalusiens Küsten ! 


…..
---
….
08.08.2022:
Ein Schmetterling, ein Webik-Musiker, eine Fischpfanne und hoffentlich Malaga-Wein ! 
Von Gibraltar gings via Marbella und Benalmadena nun nach Malaga, so meldet Skipper Mike:
Yesterdays Tapas plans had to be cancelled because of overbooked marinas (which then appeared half empty). Still found a berth at a gas station, where we grilled the catches of the day. Today we had much more luck. Webik was granted a first row place in the city port of Malaga including some Tapas recomendations from the port police.
Mucho gusto Webik!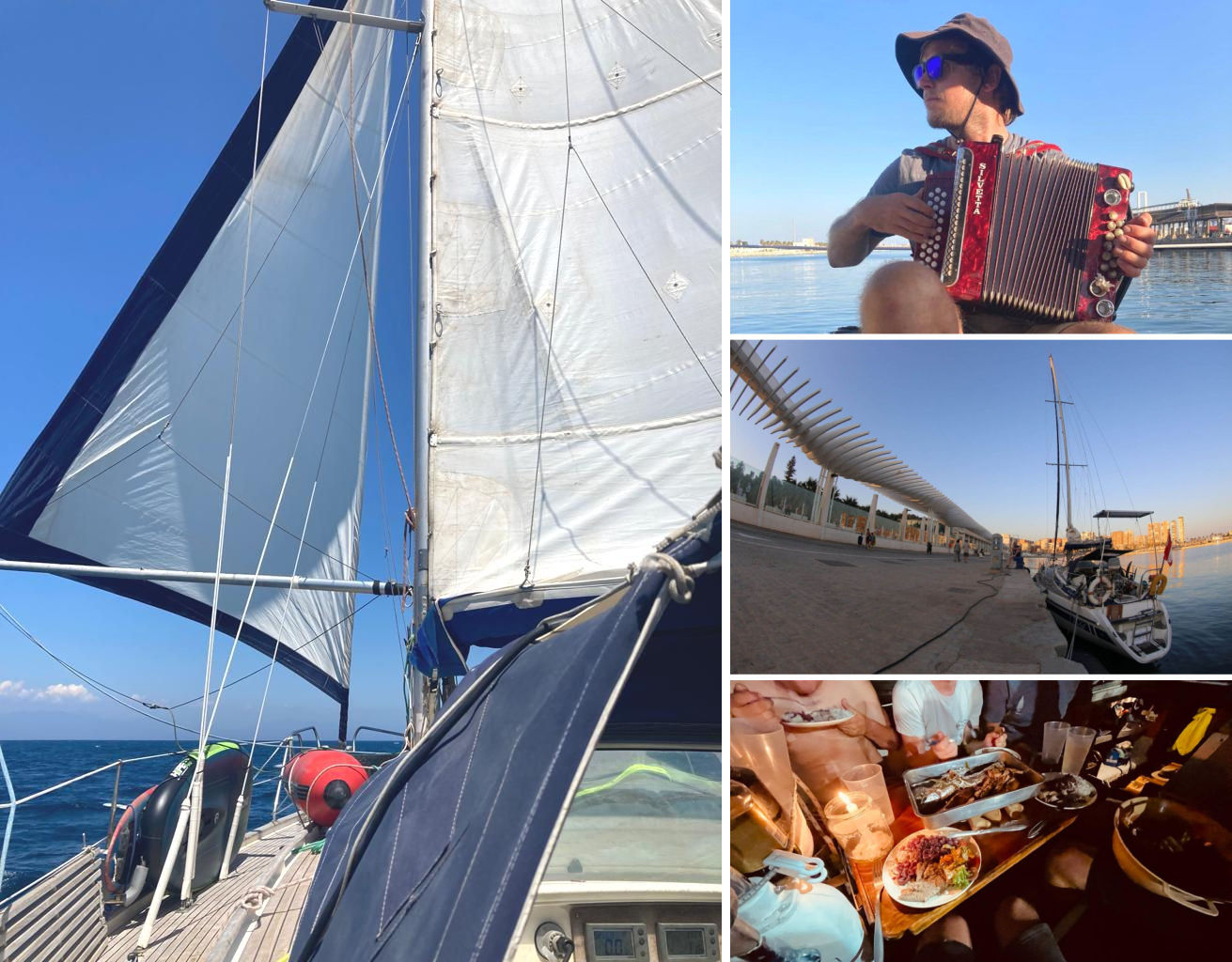 ….
---
….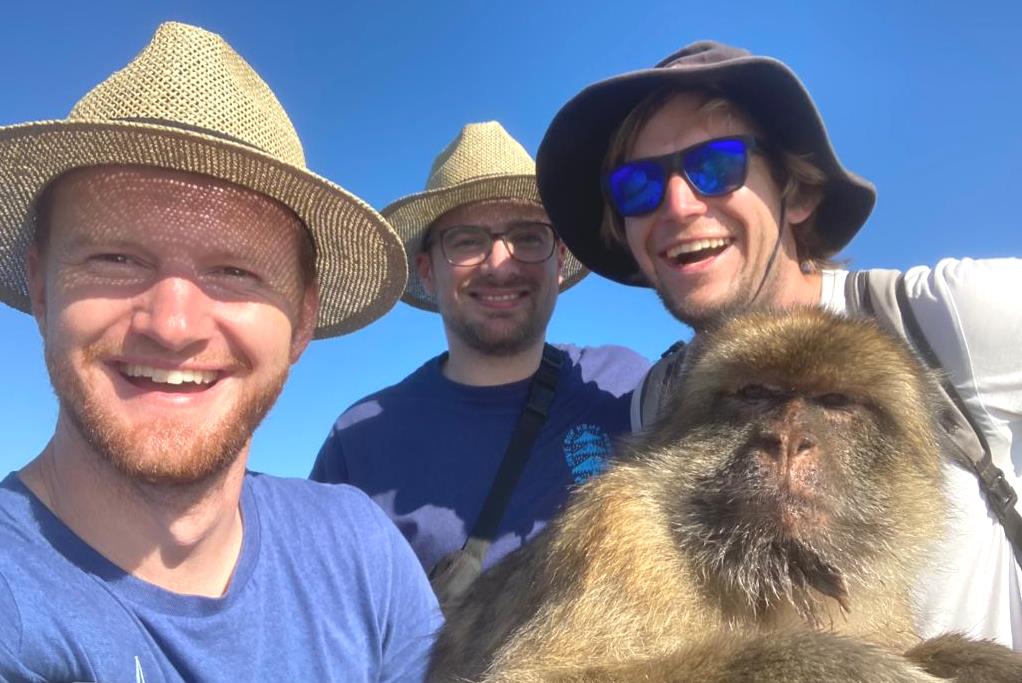 07.08.2022:
Who is the Captain?
Ein Crewbild mit Gibraltar-Berberaffen !
Heute am Nachmittag folgt das obligate Gibraltar-Foto und dazu:
We filled the tanks in gibraltar today morning and enjoyed a downwind sail towards Marbella. Todays Tappas Bar is 12 nm away …
…
---
.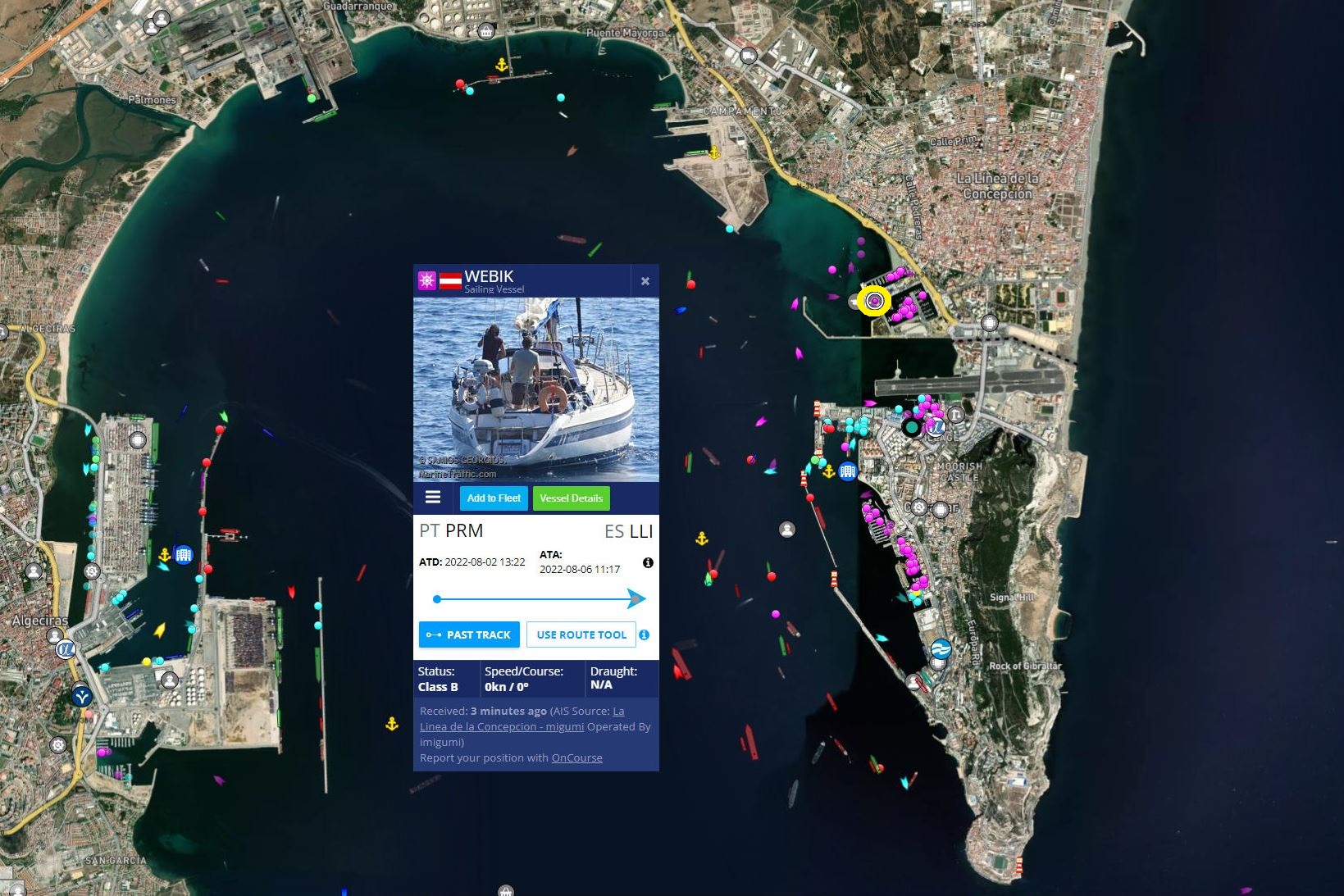 06.08.2022:
Seit Mittag ist GIBRALTAR der aktuelle Liegeplatz der WEBIK !
Heute zeitig in der früh ist die Webik-Crew bereits in Tarifa aufgebrochen, konnte anschließend zügig die letzten Meilen der Atlantikfahrt beenden und gleichzeitig ins Mittelmeer eintauchen.
Am Nachmittag gab es ein erstes Lebenszeichen von der Webik – Michael schrieb kurz:
Webik received some more crew to accelerate the med cruise.
Greetings from Gibraltar, UK!
…
---
.


05.08.2022:
Tarifa – am südlichsten Punkt des europäischen Festlandes!
Um Mitternacht ist die Webik vor Tarifa schon gut mit dem Anker am Meeresgrund festgehakt. Damit kann sich die Crew vor erreichen des Mittelmeeres noch einmal atlantisch ausschlafen.
Michael schreibt kurz vor der Geisterstunde:
Webik arrived well at Cape Town of Europe. Tarifa, where Africa is only a stones throw away. Last night in the atlantic!
Ein paar Bilder kommen mit:


….
---
….
05.08.2022:  Die Meilen am Atlantik werden schnell weniger!
Bei der Fahrt über den Golf von Cardiz musste die portugiesische Gastlandflagge gegen die spanische getauscht werden. Eine Nacht hat die Webik nun etwas südöstlich der namensgebenden Stadt im Canal des Hl. Petrus (Canu de Sancti Petri) geankert und ist nun schon zügig Richtung Einfahrt ins Mittelmeer unterwegs (sh. MarineTraffic-Screenshot). Versorgungstechnisch kann dabei kein Mangel verzeichnet werden. Hat auch die Crew die gleiche Farbe wie Fisch und Himmel?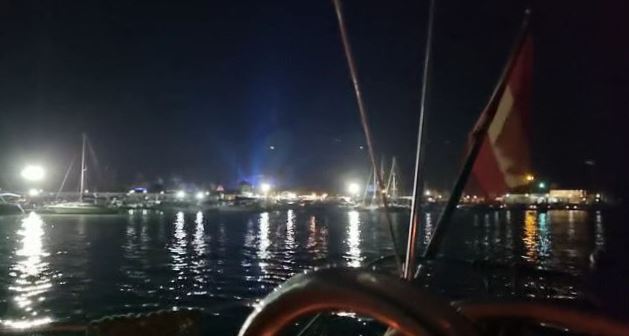 Michael schreibt am Nachmittag:
Yesterday evenning was fantastic. We enjoyed a typical spanish dinner in a restaurant and later a live concert from STING at our anchorage in Sancti Petri. Night was short. We early headed out in high tide towards the Strait of Gibraltar and currently sailing the last atlantic miles of Webiks Africa Circumnavigation! We try to catch an eatable souvenier for the mediterranean…
Cheers, mike&mike&hias
PS: Klicke auf die Nachtaufnahme für einen kurzen Konzert-Ausschnitt!


…
---
….
03.08.2022:  Segeln entlang der Algarve-Küste!
Eine Morgen- und eine Abend-Meldung – dazwischen selbst gefangene und selbst gebratene Makrelen:
Morning wing session in Albufeira. Now heading to Culatra, island close to Faro.
Self cought Mackerel dinner between cabo de sant maria and culatra, Faro. Webik is heading out for a nightrun towards Cadiz, Spain. Have a good night!


…..
---
….
02.08.2022:  Es kann wieder weitergehen – Gibraltar ist das nächste Ziel für die Webik!
Die Vorbereitungen sind abgeschlossen – Micheal schreibt:
Webik finished paperwork and formalities with harbourmaster and port police. We are released. With the motorservice completed and most of the parcels arrived we are heading towards Gibraltar. Hopefully we see some wing-foilspots on the way!

….
---
….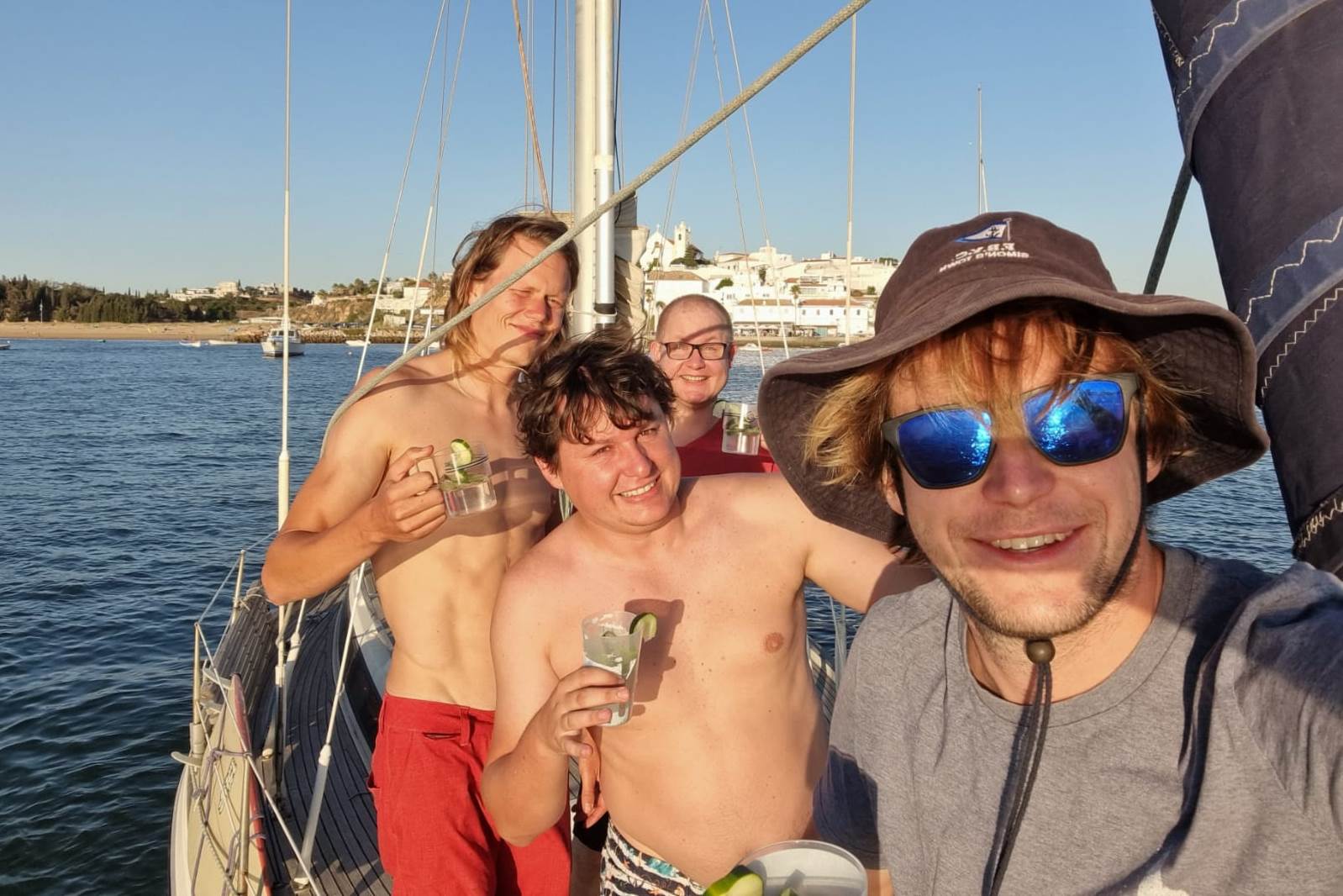 01.08.2022:
Eine Freunde-Crew ist in Portugal eingetroffen!
Michaels und seine Kumpanen grüßen aus Portimao mit einem kühlen Drink.
Den brauchen sie auch wohl dringend – bei der Hitzewelle, welche die iberische Halbinsel zur Zeit fest im Griff hat.
Bis spätestens Donnerstag 4. August sollte die Webik Richtung Gibraltar aufbrechen, so Michael, dann würde das Wetterfenster laut Prognose passen.
….
---
….

11.07.2022:
HHH oder Heimweh – Hitzewelle – Homeoffice:
Gute Gründe für eine Umrundungspause!
Michaels Afrika-Umrundung pausiert nun – im August geht es weiter, so schreibt er:
I nearly missed the African welcome committee before i headed back home to Austria. But me and zakaria spent a beautiful saturday at the Algarve coast and parked Webik. I arrived yesterday in Graz where anchorwoman already awaited me. I am back home in office until i sail onwards in August. Hope to see many of you soon!
Michael

In Portimao – WEBIK allein in der Algarve !
…
---
….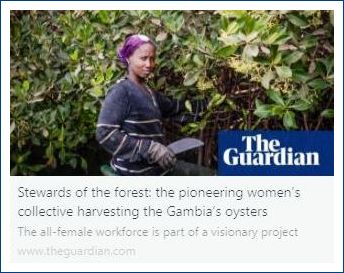 10.07.2022:
The Guardian – Gambia macht medial auf sich aufmerksam!
Michael verweist auf einen interessanten Artikel in The Guardian (zum Öffnen klicke in den Kasten):
I want to share a link of an recently published article about the gambian oyster ladies, which are also beneficiaries of the implemented solar project at lamin. They have light now in their hut and the solar powered refrigeration in the restaurants should allow them in future to keep them longer fresh and sell-able.
"Sambou would like refrigeration, allowing the women to store their catch and avoiding the need to take oysters straight to market, thereby spreading their income over the year. But many women live without electricity, and establishing that infrastructure on the banks of Lamin Bolong, a tributary of the Gambia River, would be complicated and costly."
---

09.07.2022:
Portimao/Portugal – gut zurück am europäischen Festland!
Die lange Atlantikfahrt herauf von den Kapverden ist geschafft, Michael schreibt:
After 22 days and 20 hours full of emotions I feel relieved and happy to be back in EU waters and to walk on solid ground again in Portomao, Algarve, South of Portugal. Not less than 2.315nautical miles are in Webiks wake since she left Sal, Cabo Verde. The singlehanded upwind passage was exhaustive at times and for sure the hardest sailing experience I had so far. At the same time it was an inspirational time working the elements alone in the middle of nowhere. Demanding times were compensated with positive excitements, like reading good books, welcome visitors (mostly dolphins and birds) or just enjoying a nap during sunny hours in light winds, when Webik silently accelerated in the midst of an infinite ocean scenery.
The African Circumnavigation made a big step forward in its success, but I am not done yet and I am very much looking forward to sail Webik back to Pula, where it all started. Now, its time again for some Homeworks in physical presence, -flight home is booked for Sunday.
Within August I will sail Webik into the heart of the med through the Strait of Gibraltar, Andalusia, Baleares, Sardinia and Sicily. Later, in October I will sail onwards, pass by the Pirates of Apulia before crossing the Adriatic to my dear sailing nursery, Dalmatia. If you want to come onboard Webik on any part of this trips, you are more than welcome. It is very likely that this will be the last miles under Mike`s or Captain Putti`s law on Webik! Last but not least: SAFE THE DATE: 28th of October where Webik wants to arrive in PULA, Istria. More infos will follow! Thank you all for the good vibes, you were all in my thoughts and dreams out there! Special greetings to my brother Leo who did the very essential weather forecasting and routing! I owe you some beers for your effort Brother!
Fair winds to all of you! Mike
Wunderbare Atlantik-Impressionen dürfen hier nicht fehlen:
Leider wird Michael Puttingers Ankunft in Portomao von einem tragischen Seglerunfall in der Heimat überschattet – sh. YCBS-HP-Bericht. Sepp Höller war zu Michaels HTL-Zeit einer der Lehrer in Braunau gewesen und dieser ihm von daher bestens bekannt:
In the same moment I want to express my deep condolences to a YachtClubBraunauSimbach mate Josef Höller, who died in a tragic boat accident yesterday in Izola. I didn´t had the pleasure to sail with him, but he was my teacher in technical high school. I am sure his soul will continue to live in the numerous people who learned sailing from him. And I will now definitely always think about him when engaging Sepp, my Autopilot, and also his short name by chance.
---
Ende Juni – Anfang Juli 2022:
WEBer Ante ist/war selbst auf Kiel unterwegs, daher finden/fanden sich im Zeitraum nur fallweise die WEBIK-Meldungen aktuell eingestellt!
08.7.2022 08:00 – Webik on final approach Portimaio / Portugal: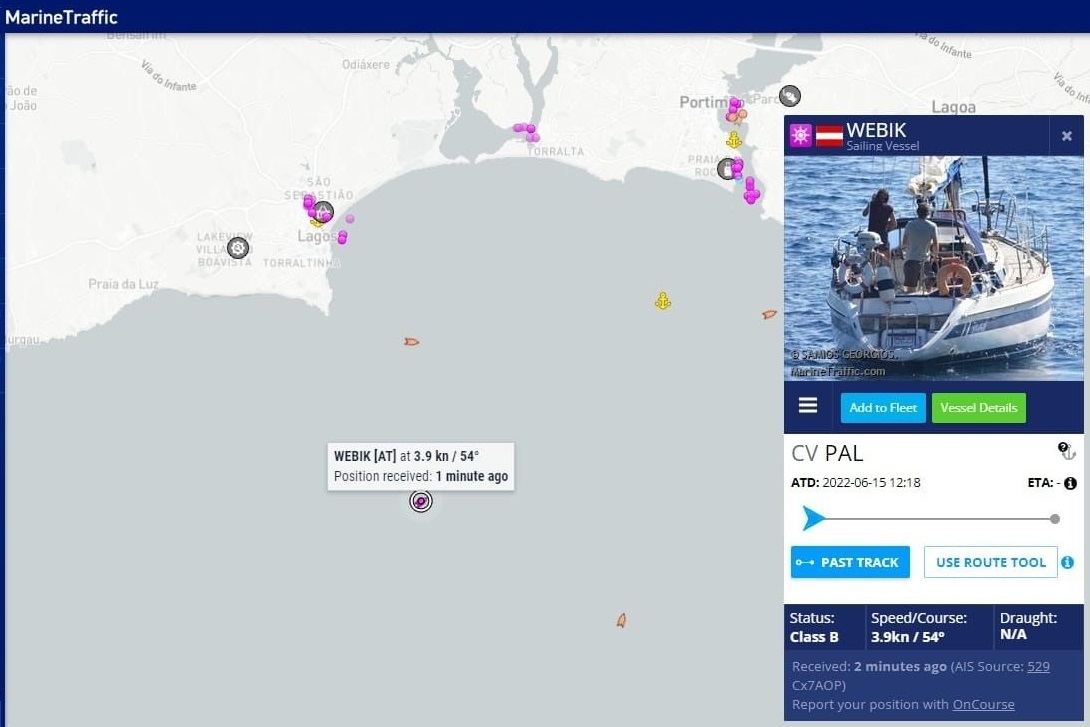 07.7.2022 12:00 N36.23 W10.16 4,5kn 075° 15kn N
Big waves and winds again in the night,
At least less clouds with the moon more bright.
My sleep out here is not so long,
Too many ships from dubai and hong kong.
Atlantic ocean still not done,
Its headwinds exhaustive but sometimes fun,
Never think about surrender,
Instead i plan where to put fender.
Marina Portimao 95nm. Yalla, webik
06.7.2022 11:00 N35.48 W12.15 4,2kn 075° 11kn N
A windy, choppy night followed by a cloudy morning with outfading wind and swell. Standing in the cockpit and seeing Webik climbing the long waves which sometimes look like walls just next to you is estonishing, – once on the top you can overlook the infinity blue white mountain landscape and watch a bird sailing close to the surface between the peaks, before Webik, mostly smooth, accelarates down into the next deep valley. Less than 200nm to go!
Michael
05.7.2022 11:00 N35.17 W14.5 4,5kn 070° 15kn N
Gona be a tough finish. The conditions would be much easier to handle if they are more continuos. 15minutes 30knts- following 20mins 10knt winds is a physical and mental stress test. It seems however that this ratio flattens a bit now, even if stronger mean winds. Priority is to get some rest, as the ships trafic increases quickly. Webik is brave. ETA Portimao Friday morning
Michael
04.7.2022 09:45 N34.56 W15.58 4,5 070° 20 NNE
After a cloudy gusty night withoud good sleep,
Sepp disturbed my nap with a loud BEEEP.
I dissambled the steering until the last gear,
Trust me i am engineer.
At 6am dawn i opened sepp nut by nut,
Suddenly, the 25knot wind smelled like an electric shortcut!
The motor replaced,hurrai, successful its test,
the rubber pilot on duty, sepp and me rest.
385nm to go!
Michael
03.7.2022 12:00 N34.48 W17.43 4,5 080 13 NNE
The wind from north fills webiks sail,
The current south makes us a snail.
But algarve comes closer in big steps,
We aiming for its ports, no more laps.
Sunny sunday all, Michael
02.7.2022 11:30 N34.36 W19.47 5kn 065° 10kn N
I put the habsburgers atlantic exile on future travels list. But for now, Madeira is cancelled due to the fair weather and good sailing conditions. Instead pushing the etmals to reach mainland before Levante sets in. Birds are cheering.
Go Webik!
01.7.2022 11:30 N34.10 W21.53 5kn 085° 12kn NNO
Teddy bear wants chips and penguin canned fish, but what should we have for todays dish?
With cabbage, potatoes and onions in stock, and still some days until reaching the dock.
A classic menu quick and hot, Pasta with tomato sauce is in the pot.
Mahlzeit
30.6.2022 11:30 N34.23 W23.49 5kn 105° 13kn NE
The Etmal has again digits three, a sunny breeze fills the sails for free. With sometimes cloudy gusts, the sails reefing in and out we still must. Happy greetings from the sea, best enjoyed with hot tea.
Webik
29.6.2022 12:00 N34.46 W25.50 5kn 100° 12kn NNE
Following the tack towards gibraltar, Webiks sea showered helmsmans were granted a lubrication service. The steering wheel with Sepp3, the autopilot, had to come off, and webik sailed with the emergency tiller. Luckily no parts lost and Sepp3 again runs smooth. I had my first and probably last beer on this leg.
Cheers, M&S
28.6.2022 11:30 N34.57 W27.46 4,2kn 085° 7kn NE
Webik is about 200nm south of Azores. There were rumors that a gin tonic at peter sports cafe in Horta takes up to 45mins preparation time. I am not committed to go through this torture, so i decided to skip Azores and instead tack towards Madeira and EU mainland directly.
Lee Ho! Michael
27.6.2022 10:30 N34.03 W28.51 5kn 355 14kn ENE
A cloudy monday morning with good wind filling the sails. We are heading towards the center of the azores high, so i start to motorsail at times when the wind is too less. A pumpkin risotto and milka chocolate keeps the mood in line with the barometer.
Bon apetit, Webik
26.6.2022 11:00 N32.47 W28.43 4kn 335 11kn NE
Slowly but surely, we are reaching familliar latitudes. Days are longer, but especially nights are fresh. Wind is going up and down and shifting direction with every cloud. But most of it still sailable, – i probably open a gas station in europe once i arrive. – i only rarely touched my Diesel reservs onbord until now.
Winddriven sunday to all, Michael
25.6.2022 12:00 N32.13 W29.32 4kn 095° 12kn NNE
Cloudy showers are interrupting a sunny ocean scenary. Many bluefin tunas in nice size 5-10kg came by and escorted Webik for some time. Far to big to eat alone, so i just enjoyed watching them. I just did my first tack on this leg, to test where i might end up!? (-probably its not the last tack)
Lee ho! Webik
24.6.2022 11:30 N30.48 W28.55 5kn 355° 13kn ENE
Due to the not existing traffic in the north atlantic nowhere i can extend the 30mins naps, as long as the shifting winds and rainy clouds are allowing. Sailing portugese jellyfish are frequent companions in the deep blue and flying fish are regular boarding Webik during night. Collecting them from deck is morning routine.
RIP fish, Michael
…..
---

23.06.2022:
Weit westlich der Kanaren geht die Fahrt nach Norden!
Ordentlich weit draußen im Atlantik bewegt sich die Webik stetig wohl hin zu den Azoren. Aber warten wir's ab, wohin der Wind den Kurs genehmigt:
10:45 N29.14 W28.23 4,8kn 335° 12kn NE
Little bird, Diaz, left without interest staying for todays lunch, krautfleckerl. Finally pleasent sailing conditions in lighter winds and swells, but a bit harder to keep the pace high. Trimming sails, reading books, making notes.
Peaceful greetings from a friendly atlantic ocean.
Michael
….
---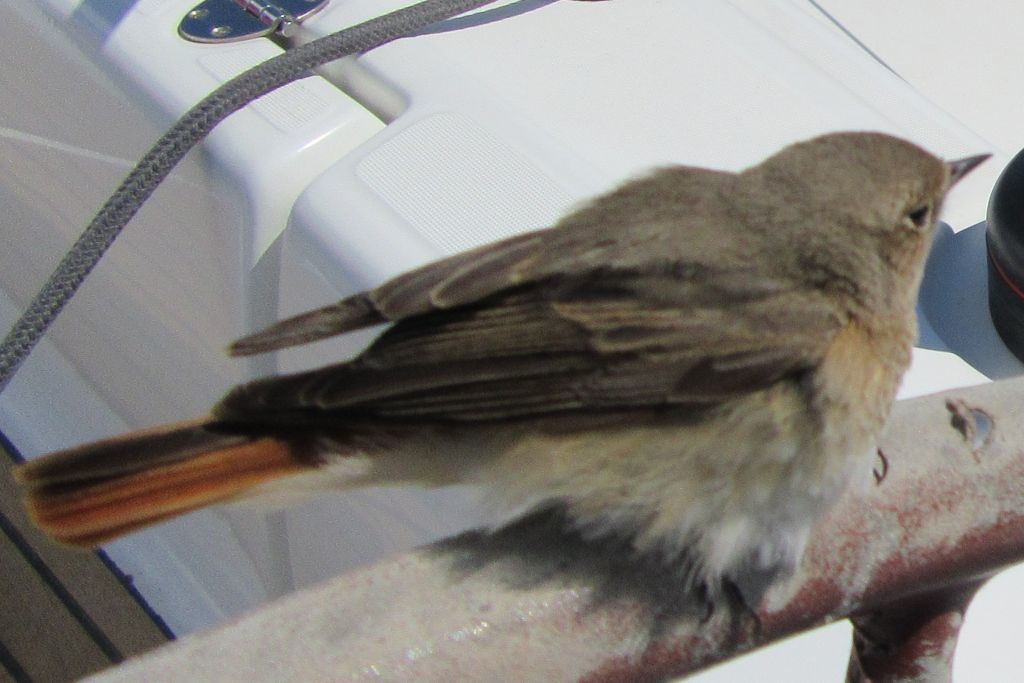 22.06.2022:
Diaz – Crewzuwachs draußen am Atlantik!   
Zugegeben, das Vögelchen ist nicht das von Michael beherbergte, aber so in etwa kannst du es dir vorstellen:
10:30 N27.41 W27.57 4kn 360° 11kn ENE
A rainy atlantic morning. First 24h since last week without gusts 30+kts. Still cautious sailing out here. Thx to the windshift i can adjust course more northwards instead of heading to greenland. New crew just joined Webik, – a small exhausted bird is drying his suit in the cockpit under the sheets. – Diaz was happy with the cornflakes, but wasnt much into talking so far.
Cheers, Mike & Diaz
…
---

21.06.2022:  Die Webik glänzt so richtig nach den nächtlichen Schauern!   
11:15utc N26.14 W27.47 4,5kn 355° 17kn NE
The clouds are still present including strong gusts every now and then. In between i already can see a promissing sunny blue sky. Webik shines bright from the nighttime showers. I hope to exit the waching machine weather with her soon.
All good. Best, Michael
….
---

20.06.2022:  "Ich bin glücklich über jede Minute, in der ich Schlaf finden kann!"  
10:30 N24.40 W27.11 4,8kn 345° 17kn NE
Another bumpy night is over with many clouds and shifting winds. Also the parts which not act in the big waves as submarine received a wash in the nights rain. I am happy for every minute i find sleep and for the progress i can make in these conditions. Sun is out now!
Have a good start into the week. Webik
…..
---

19.06.2022:  Nur eingekeilt lässt sich's ein wenig schlafen!  
Michael segelt weiterhin in stürmischer See von den Kapverden nordwestwärts:
10:30 N23.1 W26.25 4kn 330° 18kn NE
Last 24h were exhaustive and demanding with gusts in the upper 30kts. I mostly ate in horizontal position, because it was the only way to have at least one hand free. My bed moved from the salon in the stern cabin, where i could squeeze myself between surfboards, cushions and deflated dinghi. Luckilly wind dropped in the second night half and i found some good naps. Today the wind seems outfading a bit, gusts still present. It slows me down, but i enjoyed a well seated breakfast. Already 435nm sailed.
Good sunday all, Mike
….
---
18.06.2022:
Feuchtes Gedicht – oder –
Michl in der Waschmaschine!  
10:30 N21.28 W25.36 5kn 340° 22kn NE
Beating poem.
Webik climbs the waves so tall,
Its big winds, with the sails so small.
A very loud bang let my breath stop,
All is good, we just fell of the waves top.
Still good speed under sun, clouds and moon,
Hopefully out of this washing machine soon.
Michael
….
---

17.06.2022:  Sepp3, der Autopilot der 3. Generation, arbeitet ausgezeichnet!  
10:00 N19.48 W24.30 5kn 335° 20kn NE
The bumpy ride gets wet as the wind is increasing and pushing the sea state to new heights. At least the sandy caboverde dust is off again. Nothing is easy in this rollercoaster but i am happy with the upwind performance so far. Sepp3 is doing great.
Have a pleasant friday! Webik
…..
---

16.06.2022:  Mit 5 Knoten Fahrt und recht vollem Mond beinahe Richtung Norden!  
09:45 N18.07 W23.41 5kn 345° 19kn NE
Had a very good start in a cloudy breeze. The first night was very ok, just the changing wind kept me busy reefing genoa in and out again. Of course i have to get used again to the 30minutes naps. The bright moon is my friend, as he makes the night to the day. Less cloudy today and the ride gets a bit bumpy again.
Fresh blue atlantic greetings, Michael
….
---

15.06.2022:
Wiederum ein Abschied und ein Aufbruch zu neuen Ufern!  
Noch ist unklar, wohin der Wind ihn trägt:
Anchorwoman Verena is on the way to the airport and flying home to continue work soon. Thank you for your visit, for all your love, for your mental and physical support and also for doing final treatment on my injured leg! I am ready now to follow your flights paths towards home. Final preperations on Webik are on, the passport is stamped. Next singlehanded leg into the atlantic starts today. Lets hope for the right windshifts in this upwind battle, gaining miles northwards. Possible stops are not defined yet, but I will keep you posted!
Have a good day, Michael
… 
---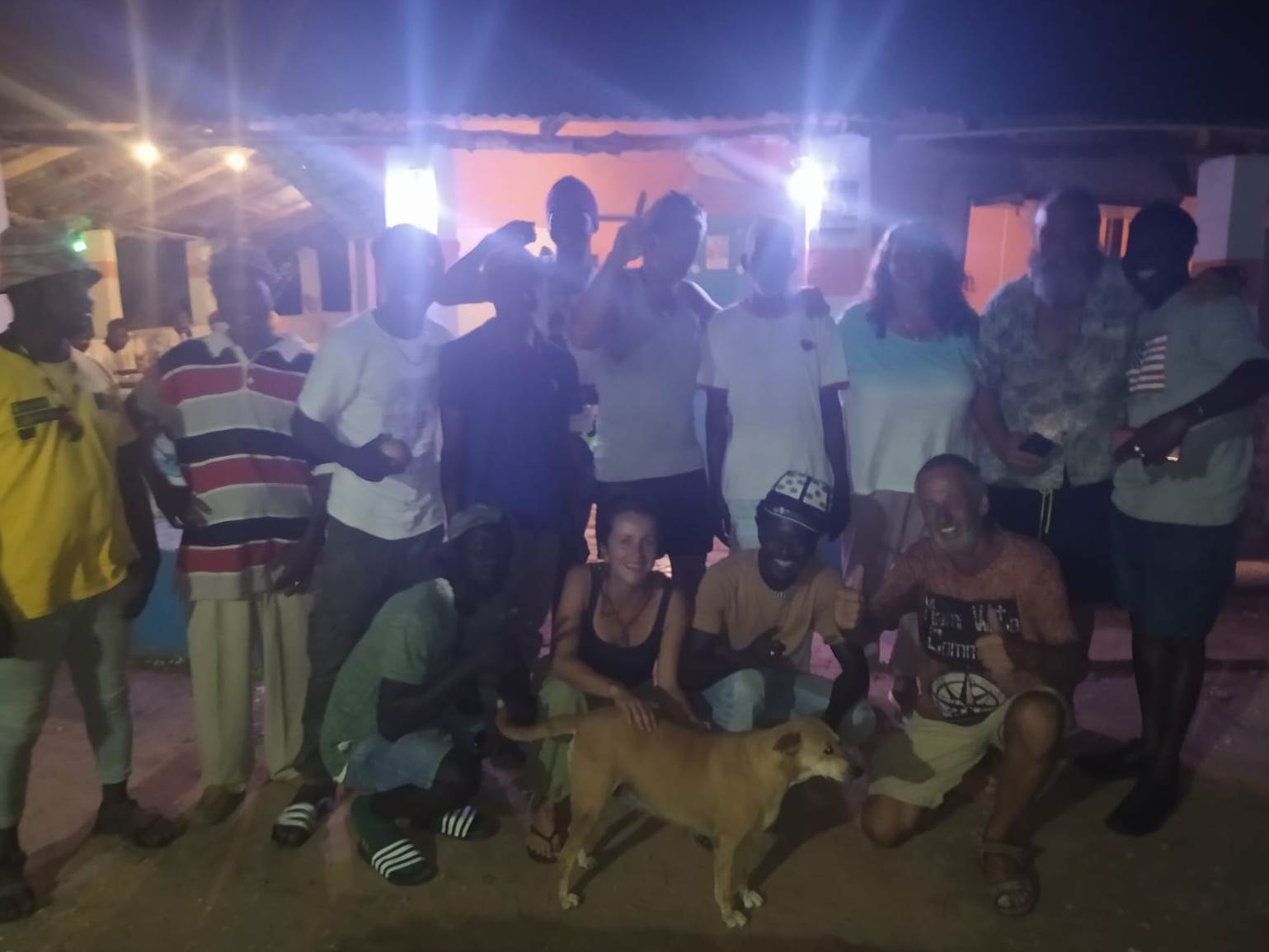 12.06.2022:
Feier in Gambia – Lichter in der Dunkelheit!  
Es ist so weit – die PV-Anlage ist in Betrieb gegangen und alle freuen sich riesig. Dazu die Meldung:
Happy fathers day to all dad's! I hope you all enjoyed a well deserved sundowner today. Its a day of celebrations for this group, as the lights in the mami wata community yacht club are on now!!! The solar project Gambia is completed, thanks again to this groups efforts, with special gratefulness to the local community and especially Peter from SV Ivalu! I joined the opening ceremony online and it was amazing seeing all the happy, partying faces in gambia.
Happy sunday evenning to all from western africa!
Cheers, Webik!
…

Es werde Licht – und es ward Licht! Schöpfungsgeschichte Gambia 2022! Herzlichen Glückwunsch allen Protagonisten!
….
---

11.06.2022:  Ein paar Impressionen von der Kapverden-Insel Sal!  
Ein Wochenend-Gruß von den Kapverden mit Bildimpressionen und Kurzbericht von Home Office und der baldigen Weiterreise:
Weekend vibes in Caboverde after a busy but productive week of floating home office – probably the last weekend for Webik here on Sal, before setting sails northwards!
A sunny weekend to all!
Michael & Verena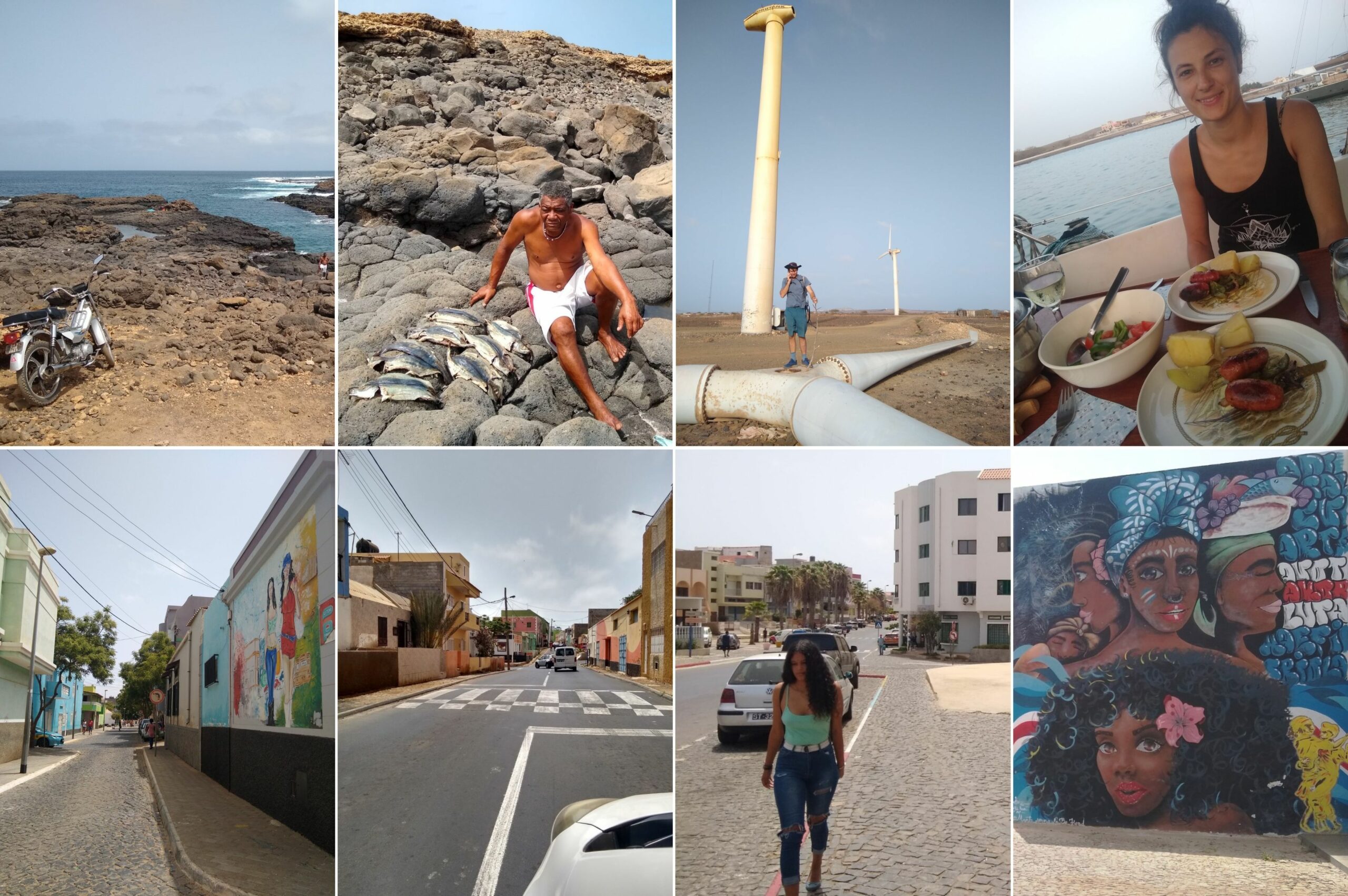 ….
---

07.06.2022:  In Gambia geht der Baufortschritt zügig weiter!  
Peter berichtet aus dem Dorf  Lamin:
Here is Peter, from Lamin Lodge Project, that you have sponsored. Thank you so much.
We are about to finish the house for electricity and I believe by end of the week we can connect the solar pannels with the batterys and booooom – we have electric Power.
Thanks to all the sponsors👍🏽⛵

Und Michael antwortet von Sal:
Thank you Peter for the update. This beautiful power house is completely community effort and i am sure it will not only accomodate the groups funded solar equipment but furthermore act as a hub of information about the renewable energies use. It will be the place for power distribution! ⚡🔋💡
….
---

03.06.2022:
Neue Rechung: 1 plus 1 – das macht Freude!  
Schon in der Schöpfungsgeschichte sagt der Allmächtige: "Es ist nicht gut, dass der Mensch allein ist. Ich will ihm eine Gefährtin geben." – und Michael meint:
Look who spontanous joined me for dinner yesterday! Island exploration expert, chief onbord medical doctor, kitesurf buddy and anchorwoman arrived …
….
---
…
02.06.2022:
To it youself – selbst ist der Mann – oder
"1 plus 2 – das macht 3"! 
Wenn einer eine Reise tut, dann kann er was erzählen. Dies trifft sicher auch sehr häufig bei Seglern zu, speziell wenn es um Probleme beit technischen Einrichtungen geht, aber lies selbst:
Update from Webik:
I built a new Autopilot Sepp 3 from Sepp 1 and Sepp 2. It was not the small gearbox, but its belt, which I have 3 times in stock. Most likely the belt got a scratch from the Senegal Fishing net experience, – he was not the only one who suffered from this incident. I completed the operation on Sepp 3 yesterday evenning before I had a good 10hours sleep, – so far it looks very promissing, but for sure it will need some testing arround the island. 😉
Have a good day! Michael
…
---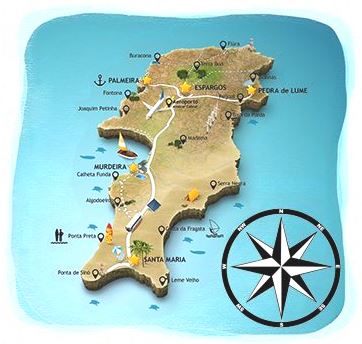 …
01.06.2022:
Glückliche Ankunft in Palmeira auf der Kapverden-Insel Sal! 
Ein ziemlich unausgeschlafener Einhandsegler meldet sich bald nach dem Ankermanöver:
08:30 Anchor dropped in Palmeira Port, Sal, North Capverdes. The night approach felt long, and i really missed sepp the autopilot. Going straight upwind in a constant breeze worked well with the rubber pilot but anything else, e.g. only putting another reef into the main sail was a challenge and the second night half i had to steer without a minute rest. Still some upwind miles ahead, but happy that this 470nm singlehanded leg worked well under the circumstances.
Report follows,
Michael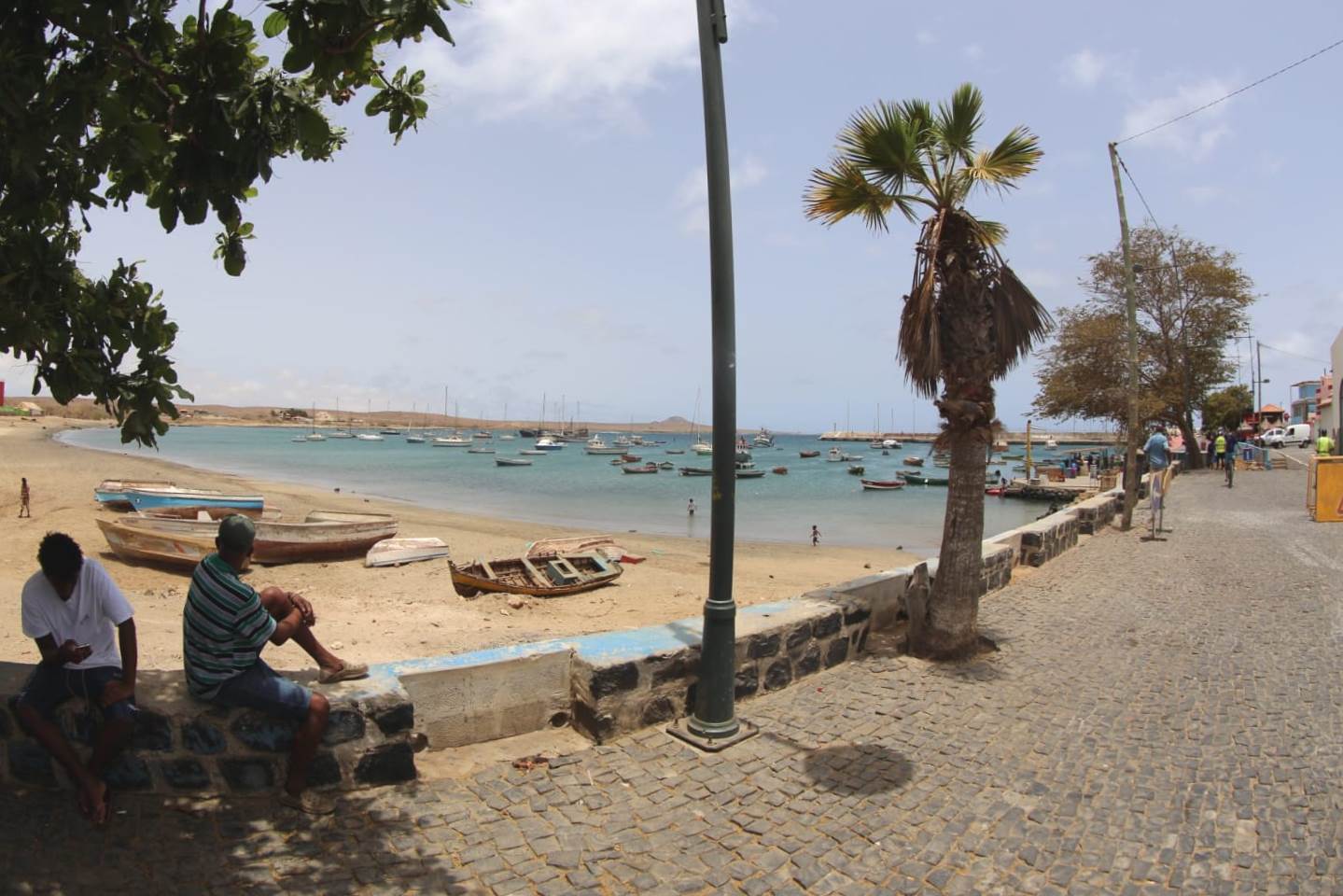 ……………
Am späten Nachmittag sind die Augenlider nicht mehr zu schwer für einen weiteren Kurzbericht:
Webik received clearence in Sal including some Wifi. From the sea the town looked quite harsh and dry, but once you go through the streets its colourfull and full of life and reminds more on Cuba then a desert town. Unfortunately i am far too tired and not much in partymood today. Yesterday a loud high frequency noise next to my salon bed disturbed my 30minutes sleeping routine, – i went outside and saw a family of pilot whales, dancing alongside webik, – their movements and singing was fascinating. Greetings from Palmeira!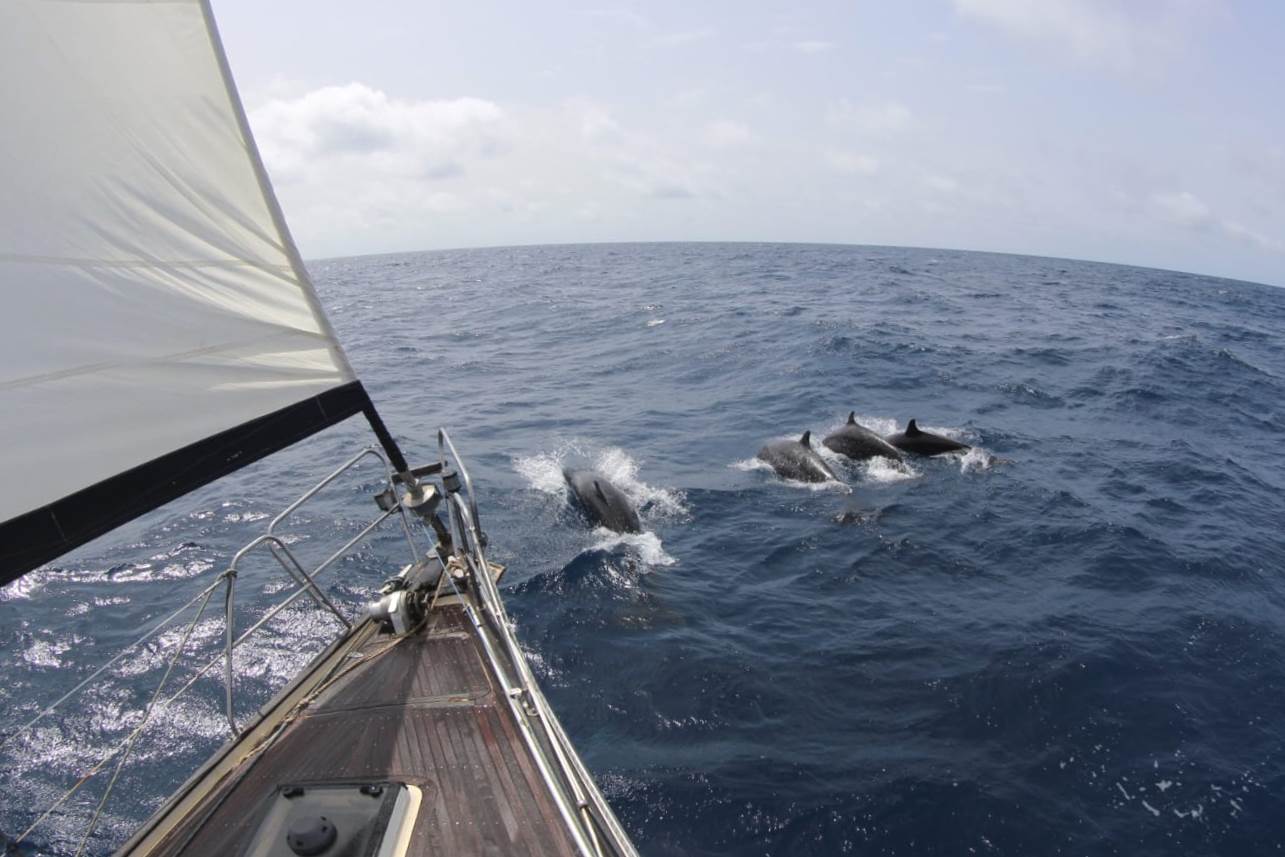 Das Problem mit "Sepp", dem defekten Autopiloten, beschäftigt unseren z. Z. Solo-Reisenden verständlicherweise. YCBS-Ehrencommodore Christian Haidinger fragt an, ob sich wer findet, der den "Schröder" (eine andere Bezeichnung für die Selbststeuerung) wieder zum Arbeiten bringt? Michael antwortet:
Ich glaub das wird bei mir hängen bleiben. Aber ich muss heut noch alles zerlegen und schaun, ob es das kleine filmdoserlgroße Planetengetriebe vorm E-Motor ist, genau das einzige kleine Teil, dass ich nicht doppelt mitführe… Heut is Feiertag auf den Kapverden und der einzige Raymarine-Händler nicht zu erwischen. Mein morgen ankommender Überraschungsbesuch aus AT kann den kleinen Teil leider nicht mitbringen, weil der Grazer Händler meines (nun) Misstrauens seinen Liefertermin um einen Tag nicht eingehalten hat. Does anyone know somebody who knows someone comming to capeverdes soon? Or other: Who needs some holidays in Sal? Its beautiful! But once all paperwork is finished, i can make the detailed Sepp inspection… I will keep you posted.
….
---
…
31.05.2022:  Der Einhandsegler und die Gummistrapse-Wache! 
Einhandsegler haben üblicherweise zwar zwei Hände, aber es ist nicht so, dass die eine Seite wachen könnte und die andere schlafen. Wenn also der Autopilot seinen Dienst verweigert, dann wird es mit den Ausruhen recht schwierig. Aber zum Glück gibt es da ja noch die Gummistrapse, wie Michael berichtet:
10:00 N16.06 W21.34 4,6kn 305 18kn NNE.
Webik is brave in the 20knots of wind even without autopilot. With a balanced sails trim and little support of some rubber straps, she sails straight and i do not have to make much corrections. I can find some rest and be ready when its most needed.
Capeverdes are comming closer quickly. Next stop sal, palmeria. 95nm to go.
Yalla Webik!
Während die Webik zügig Richtung der Kapverden-Insel Sal steuert, da geht die Bautätigkeit im Dorf Lamin ebenfalls zügig vonstatten, wie Peter aus Gambia informiert:
Meanwhile here in Lamin work is going on. Every day you can see improvements on the building for electricity. Now the roofing has started.


…
---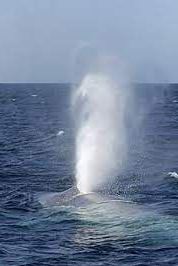 …
30.05.2022:  Walbesuch am breiten Weg zu den kapverdischen Inseln! 
 Diesmal vermeldet Michael kein Mitternachtsbad, sondern eine feine Sprühdusche im Cockpit seiner Webik:
11:30 N15.28 W20.04 4,5kn 17kn NNE.
The deep blue element is welcoming Webik again. Following a high5 of a big turtle, a familly of whales passed by to check the sails trim. One, as big as Webik, was so close on my windward side that he nearly gave me a shower while blowing out massive amount of water. They were arround for some minutes before they peacefully disappeared. The upwind sail so far is very fine but the sea is building and it starts to get a bit bumpy and wet while Webik rides and jumps through the white horses. While texting you Sepp2 the autopilot cancelled its service. Sal/Capverdes lies 180nm ahead.
Cheers, Michael
Noch 180 Seemeilen bis zur nächsten Insel, also hat die Webik schon rund die halbe Strecke zwischen Westafrika/Dakar und Kapverden/Sal geschafft. Eine Überblickskarte zeigt dir die Lage und die zahlreichen Inseln des Atlantik-Archipels: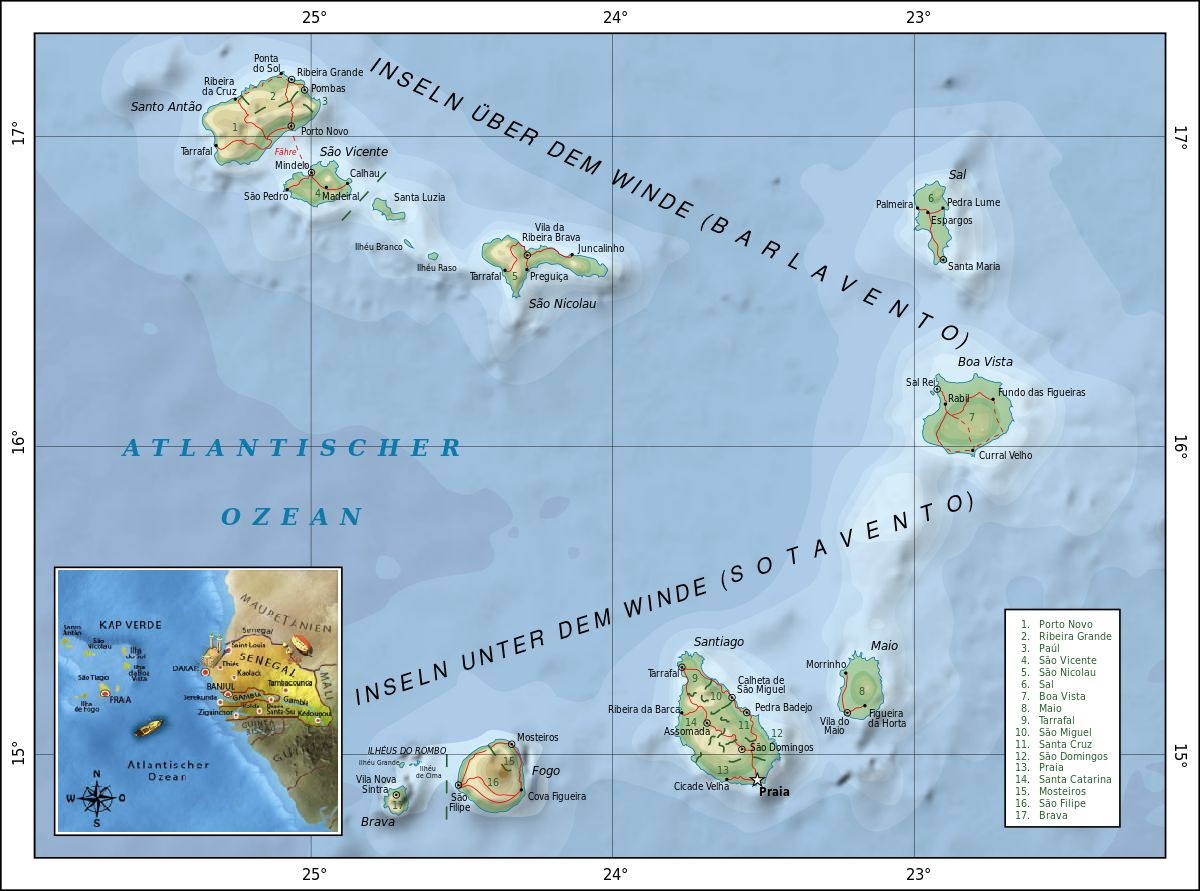 …..
---
…
29.05.2022:  Webik gefangen im Fischernetz – Tauchgang zu Mitternacht! 
 Wenn Alpträume war werden – Michael berichtet:
11:00 N14.49 W18.24 5kn 295° 14kn NNE.
I am very happy to sail finally in the open ocean. Last night i was less lucky than the night before. At 2200, about 10nm off Dakar i saw a fishing boat with a single light and a buoy on its windward side. With the help of the engine i steered a course upwind of the floating buoy. But there was an unmarked extention: Propeller at the fishing net and engine stopped. I shouted to the fishermen and gave light signals without reaction, so i did a little dive and cut the net of the propeller. It happened three times in total, once i managed to stop the boat in time, and about midnight, i had to dive again to free the rudder from a net, which was easier then the prop. I feel releived that everything went ok, sad that i damaged two fishing nets, but inshallah – they will put on lights in future.
Have a great sunday and beware of the unlit extentions, Webik
Der kleine graue Kreis vor dem westlichsten Afrika zeigt die Position der Webik. Damit man eine etwas bessere Vorstellung hat, was am Meer so alles unterwegs ist, hier ein AIS-Screenshot. Soviel zum ruhigen Schlaf eines Einhandseglers während einer Nachtfahrt.

….
---
…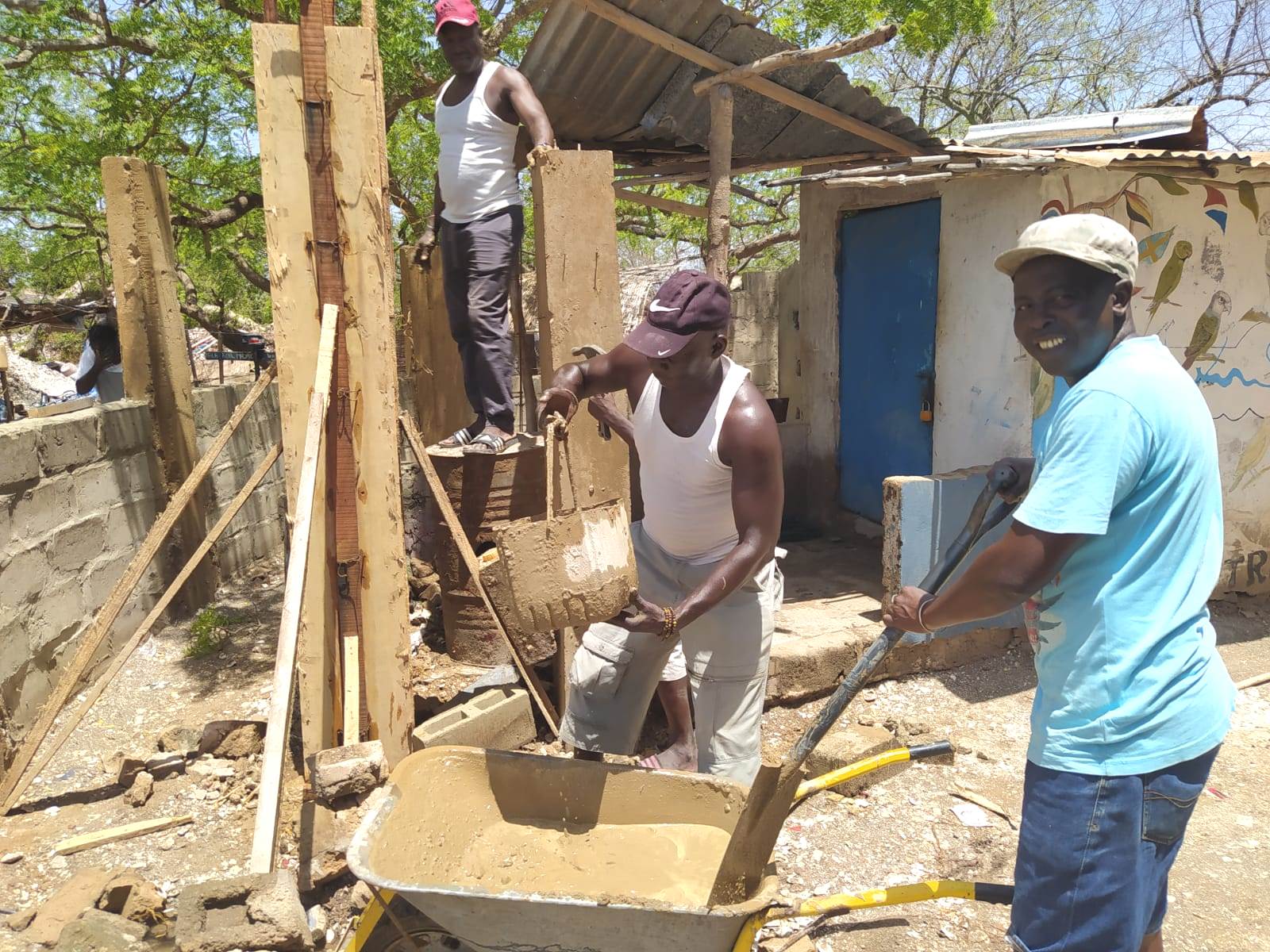 28.05.2022:
Die Webik nähert sich Dakar –
in Gambia gehen die Bauarbeiten ohne ihn weiter!
Zügig steuert Michael dem westlichsten Afrika entgegen. Via Satelliten meldet er wie folgt:
10:45 N14.08 W17.08 4kn 330° 4kn N.
With Webik setting sails, the Gambias raining season started. It thunders and lightnings in the night provided a perfect boat wash, but also a free highway, as many of the open pirougues moved in during the heavy rain, including their nets and fishing lines. So I could find some sleep naps during the night while motorsailing up towards Dakar/Senegal. There I aim to meet today with the NE trade wind. But currently I am enjoing the ocean calmness with a book, while pelicanoes fly by in search of the fishing boats.
Greets, Michael
….
---
…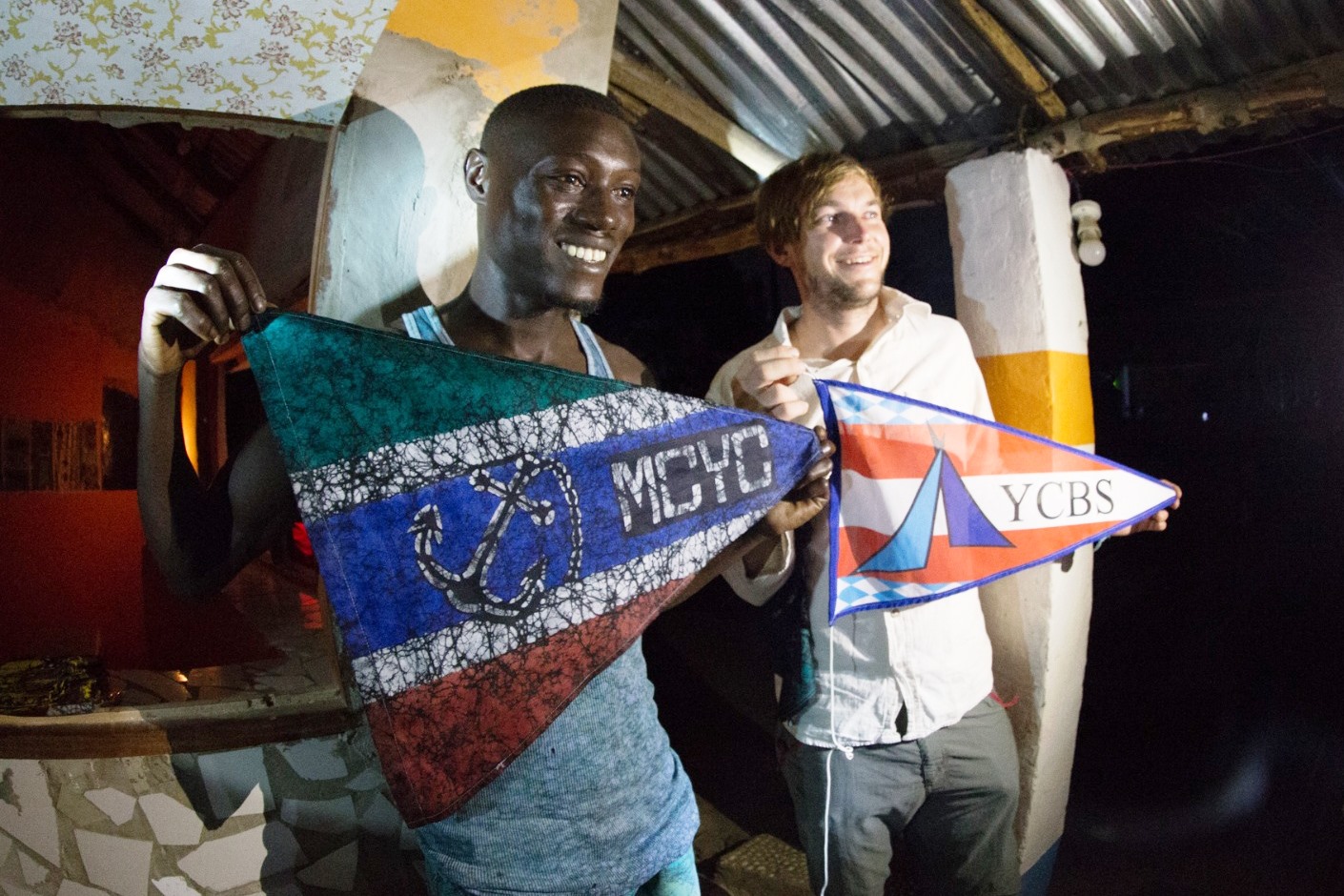 27.05.2022:
Berührender Abschied von Gambia –
die Webik sticht wieder in See!
Welche Fröhlichkeit und Farbenpracht zwischen Wellblech und Urwaldriesen! Kann Wegfahren leicht sein bei so vielen herzlichen Menschen? Traumhafte Bilder zeugen von einer wunderbaren Freundschaft. Die Webik geht wieder auf Reisen und Michael schreibt:
My leg feels ready to set sails and so do I, the weather says better move now then later and so my passport is stamped already. I am leaving with the Solar Project in its final stages, the new inverter/power house soon be finished, the local electrician will take over again and complete the system with the already delivered components. It is not easy to say goodby here, but I am excited and proud what we reached together here! Huge thanks to all of you. It was your contribution to literally bring all members and visitors of this community to a new shine! And the community is looking forward to welcome some members from the Webik/YCBS family anytime here. WEBIK is out, heading north, whether Cape Verde, Canaries, Madeira or Azores, -the answer where i first touch land is blowing in the wind! Leo will keep you posted with the onbord updates and Peter will let us know when the lights will go on at the MamiWataCommunityYachtClub.
Hugs, Michael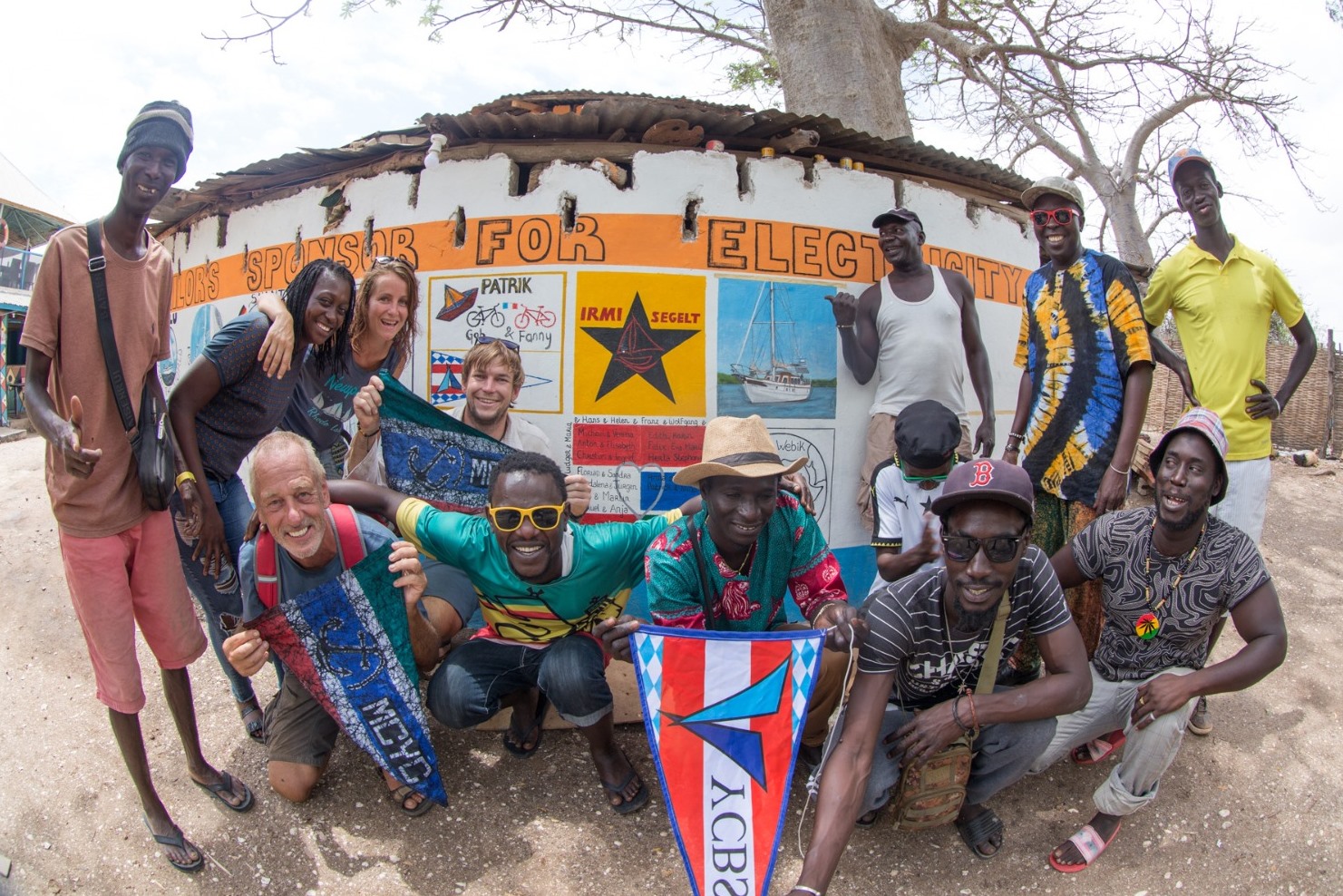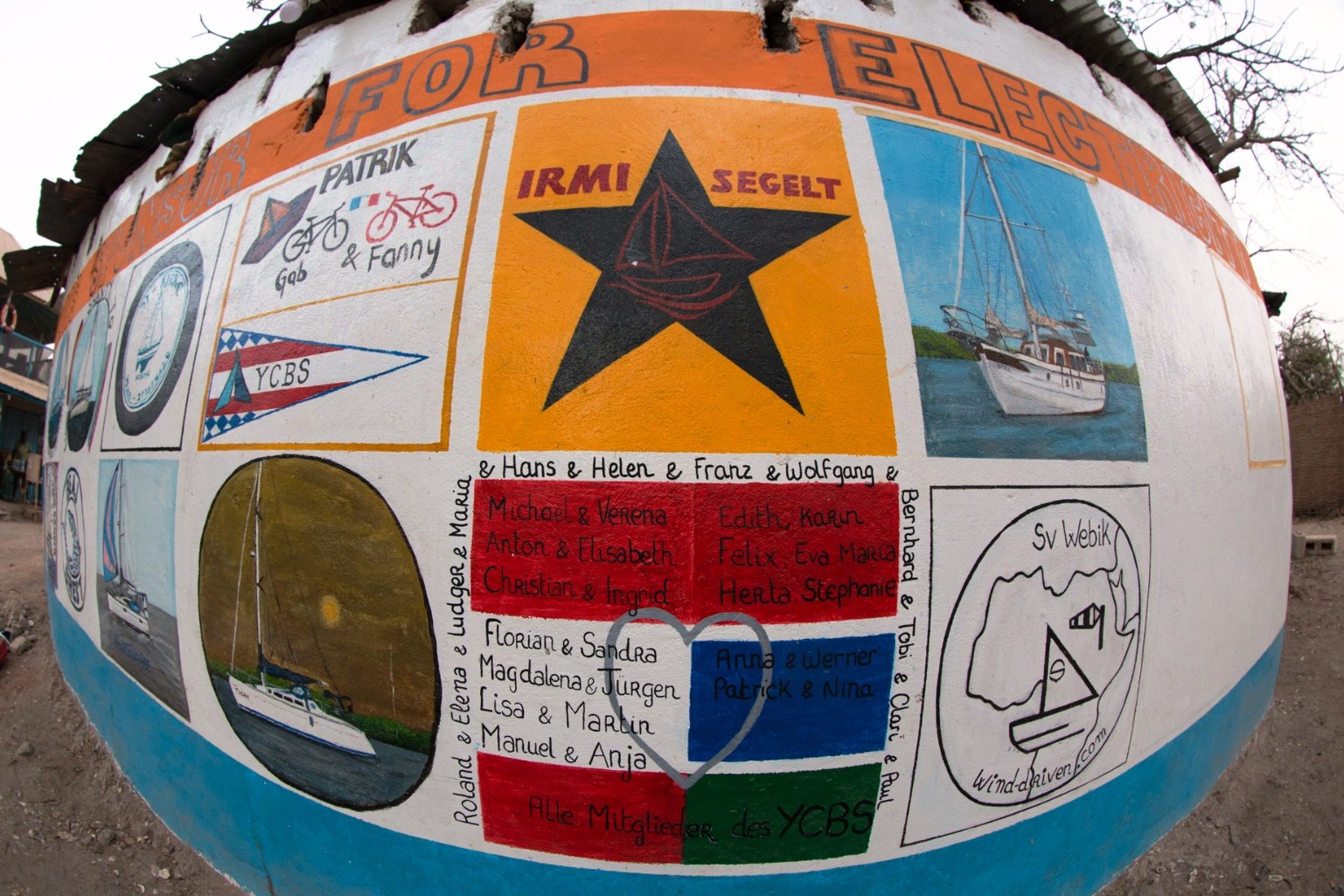 Elektrischer Strom und ein Haus der Erinnerung bleiben in Gambia bei den Freunden zurück.
Besten Dank den Künstlern und alles Gute für die Zukunft wünscht der YCBS !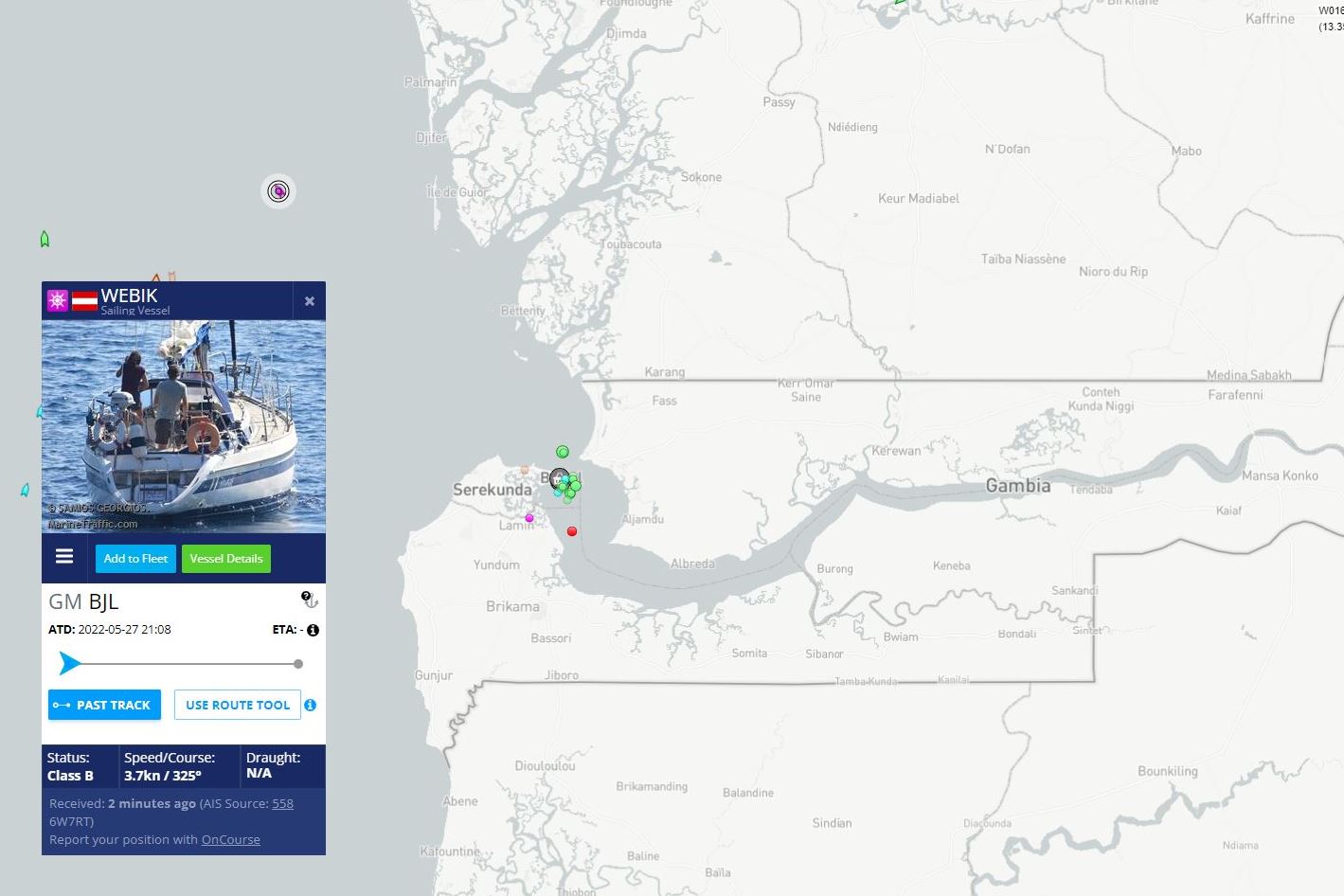 ---
…
25.05.2022:
Von Musikern und Lichtfängern – diesmal Photosynthese-Produkte statt Photovoltaik!
Wenn des Tages Arbeit getan ist und die Muse des Abends folgt, dann darf es melodisch werden: Österreichische Traditionsmusik gepaart mit Afrikanischen Klängen!
Gepaart werden in Gambia nun auch zwei Arten der Sonnenschein-Verwertung: Die moderne Technik Licht in Strom zu wandeln und die geniale Fähigkeit der Pflanzen mittels Chlorophyll organische Substanz zu produzieren.
Urwaldriesen machen das seit Jahrmillionen in vielfältigen und prachtvollen Ausführungen:
---
…
24.05.2022:
Maurer, Zimmerer und Ärzte im Einsatz!
Mehrere Berufe sind für das Gelingen eines Projektes vonnöten, wie Michael schreibt:
With the island inverter (inkl. Mppt Tracker/ChargeController/Inverter unit) and the Batteries, all components for the Solarsystem are delivered. The community therefore is busy to finish the roof, the floor and the walls of the inverter house, that things can be installed accordingly. Meanwhile my legs infection also makes great progress, and I am feeling much better again. Thanks to my great medical advisors Dad and Verena! Today morning I was in the nearby Lamin Health Center for an ultrasonic survey to check on the spread of the infection through the leg and bones. Thanks to the great initiative from my Dad, he and the Radiologist from Braunau, Austria Dr. Fink joined this survey online and discussed the ultrasound images with the British doctor of the Lamin Health Center. Especially bearing in mind the singlehanded miles ahead, it is great to reasure that the wound and its healing process is going well.
Have a great and healthy evenning all!
Michael

---
…
21.05.2022:
Keine Zeit für einen Krankenstand!
Die Fuß-Infektion ist noch nicht überwunden, aber das PV-Projekt verträgt sich nicht gut mit einer Ruhepause, wie Michael berichtet:
The solar project in Gambia quickly moves forward. The solar pannels are mounted on the roof and the cables are laid into ground. The materials for the new roof of the inverter house arrived and today the present roofstructure is getting dissambled while the concrete floor is hardening. Unfortunately i am still suffering from my left-legs infection, but the fever and the pain is getting down very much and all the community is supporting me. Everybody here is asking about the legs condition everyday. Thanks to my dad and verena, i enjoy the best medical consulting via videocalls additional to the local estimates. Lets hope my leg is ready before the lights go on at the community!
Greetings from Gambia, Mike

Projekt-Besprechung – fachmännische Anleitung und Koordination: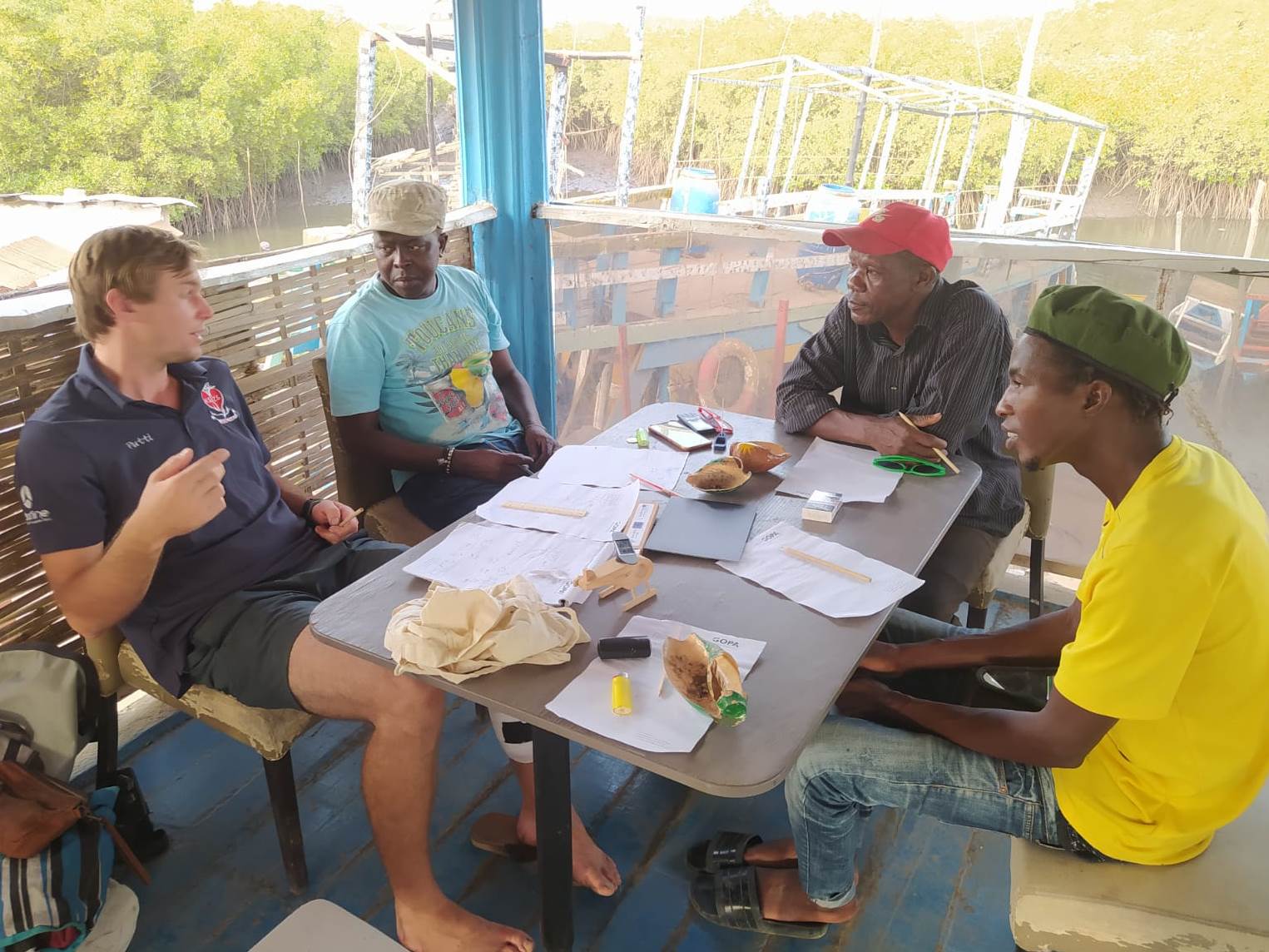 …
---
…
19.05.2022: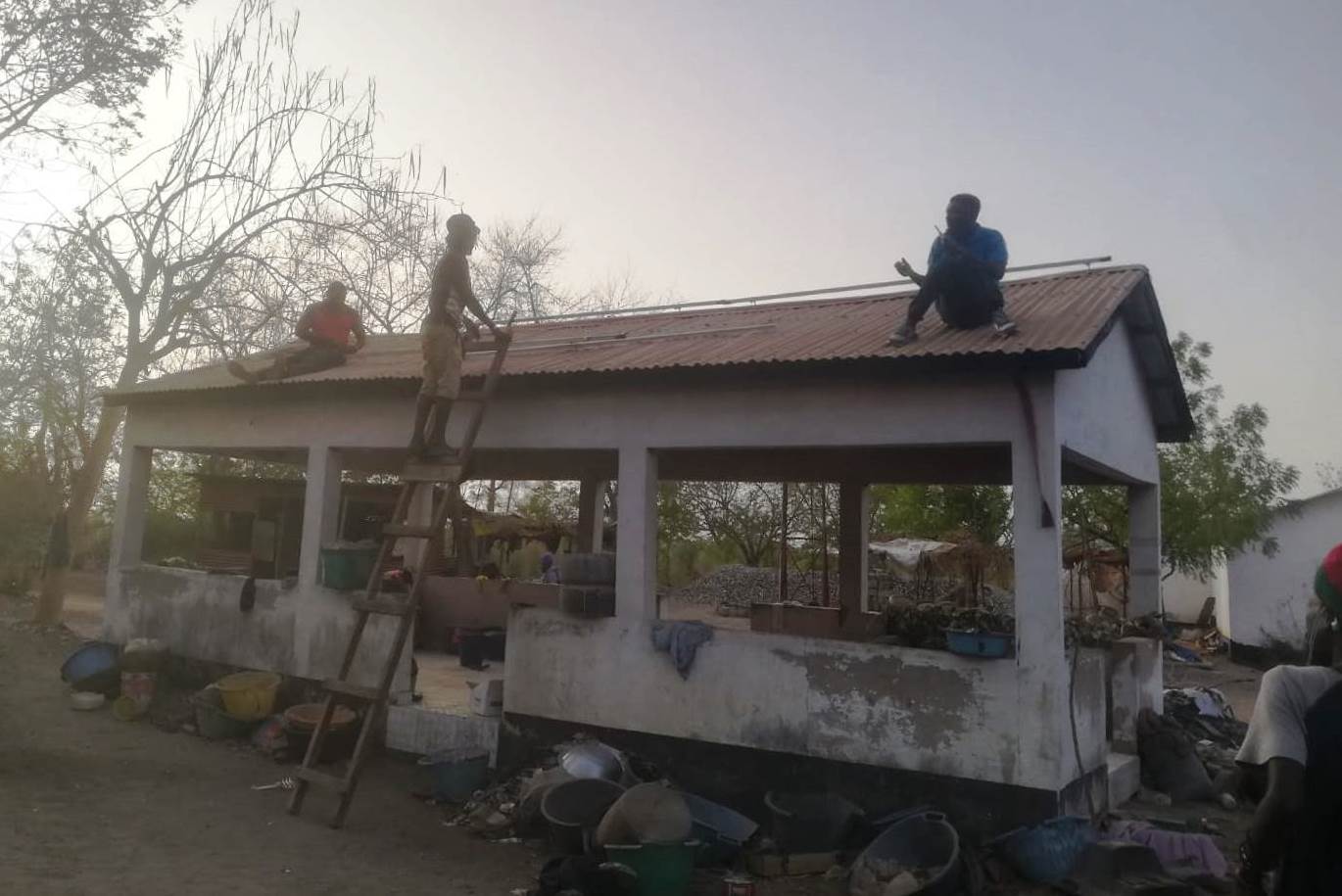 Eine beeindruckende Entwicklungshilfe!
Das PV-Projekt im Dorf Lamin schreitet zügig voran. Nun werden bereits die Schienen für die PV-Module am Dach mountiert. Michael schreibt:
Soon the light will go on at the lamin community because of this group contributions! Pannels and roof trails were delivered yesterday and today morning, the channels for the cablepipes were digged into the ground. The oyster ladies helped with watering this hard soil. Later the rails were mounted on the roof. To prepare the future energy consumers for the electricity, i also started giving lessons in electric engineering. Unfortunately my leg which was hurt in the salvage of the lost outbord engine got infected, so I had the chance to see the Lamin health center. So eventually my singlehanded onward sail will delay for some days. At least the outbord engine is running already great again!
Greetings from Gambia, Mike
Dazu liefert er noch ein paar weitere Bildeindrücke mit:


….
---
…

17.05.2022:
In Gambia stand die Zeit nicht still
(während der YCBS-CUP-Törnwoche)!
In der einen Woche Homepage-Einstell-Pause war in Gambia einiges los. Zum Nachtragen fehlt leider die Zeit, aber so viel sei verraten:
Es wird bereits tüchtig an der Realisierung eines Raumes für die Technik der Photovoltaik gearbeitet.
Wie am Bild ersichtlich gehen die Maurerarbeiten schon zügig voran. Vorweg mussten aber erst Ziegel gefertigt werden – davon hat Michael einen  Videoklipp  fabriziert!
Die beiden Mikes gönnten sich zwischendurch eine Auszeit auf der Webik und erkundeten den Gambia-Fluss. Nur 1 Bild dazu sagt schon einiges aus:
…….
Dabei musste sich die Sunbeam einmal an ein ziemlich alternatives Revier gewöhnen. Nach den Weiten des Atlantiks war die Navigation durch enge Flussarme und Mangrovengewirr eine ganz andere Herausforderung.
….
---
…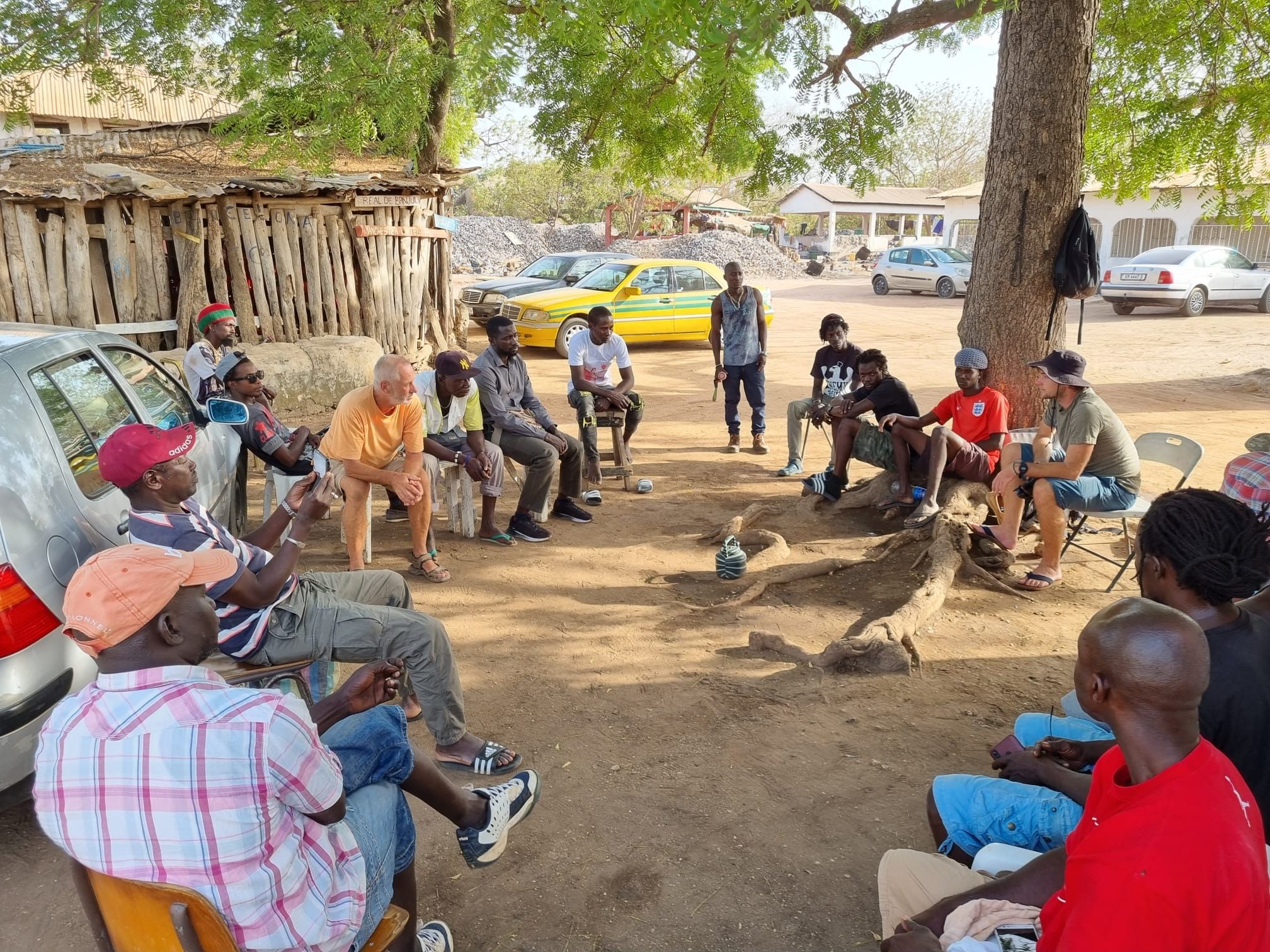 05.05.2022:
Das SOLARPROJEKT GAMBIA in großer Gesprächsrunde!
Michael schreibt:
Big day for the gambia lamin community! We did a solar energy kickoff meeting to discuss the projects vision and to set up a plan for the together implementation. All were full of ideas and very excited to have electricity soon. The oyster ladies were dancing when they were told about some solar pannels and lights. First step now is to build a small secure cabinet for the inverter and batteries…
Beside home office, provision shopping and african sunsets Webik also gets ready to see something river upstream soon.
Have a good evenning all!
Mike&Mike
Ante-Anmerkung:
Für den Projekt-Fortschritt und auch für die Entdeckertour am Fluss Gambia alles Gute.
Hier gibt es nun für einige Tage eine Berichtspause. Beim Yachtclub Braunau-Simbach steht die YCBS-Cup-Törnwoche in Dalmatien am Programm – da muss der Homepage-Weber auch dabei sein.
…
---
…

03.05.2022:
Das SOLARPROJEKT GAMBIA ist finanziert!
Michael Puttinger ist – diesmal mit Freund Mike – nach seinem Heimatbesuch wieder gut in Gambia zurück. Er schreibt:
Greetings from GAMBIA! Me and Mike landed well yesterday in the midst of the currently ongoing "Mubarak Eid" celebrations. All awaited us with the warm greetings "Welcome back"! Webik was not easy to find under the thick coat of Sahara dust, but everything is very well on bord. Where i parked our heavy packed sailing bags! THIS GROUP COLLECTED THE REMARKABLE SUM OF 5240€ which makes it possible that this Project already started to be implemented!!! THANK YOU, or in Gambia language: "Baraka!" I will keep you posted about the progress in the comming days!
Have a wonderfull evenning!
Webik

….
---
…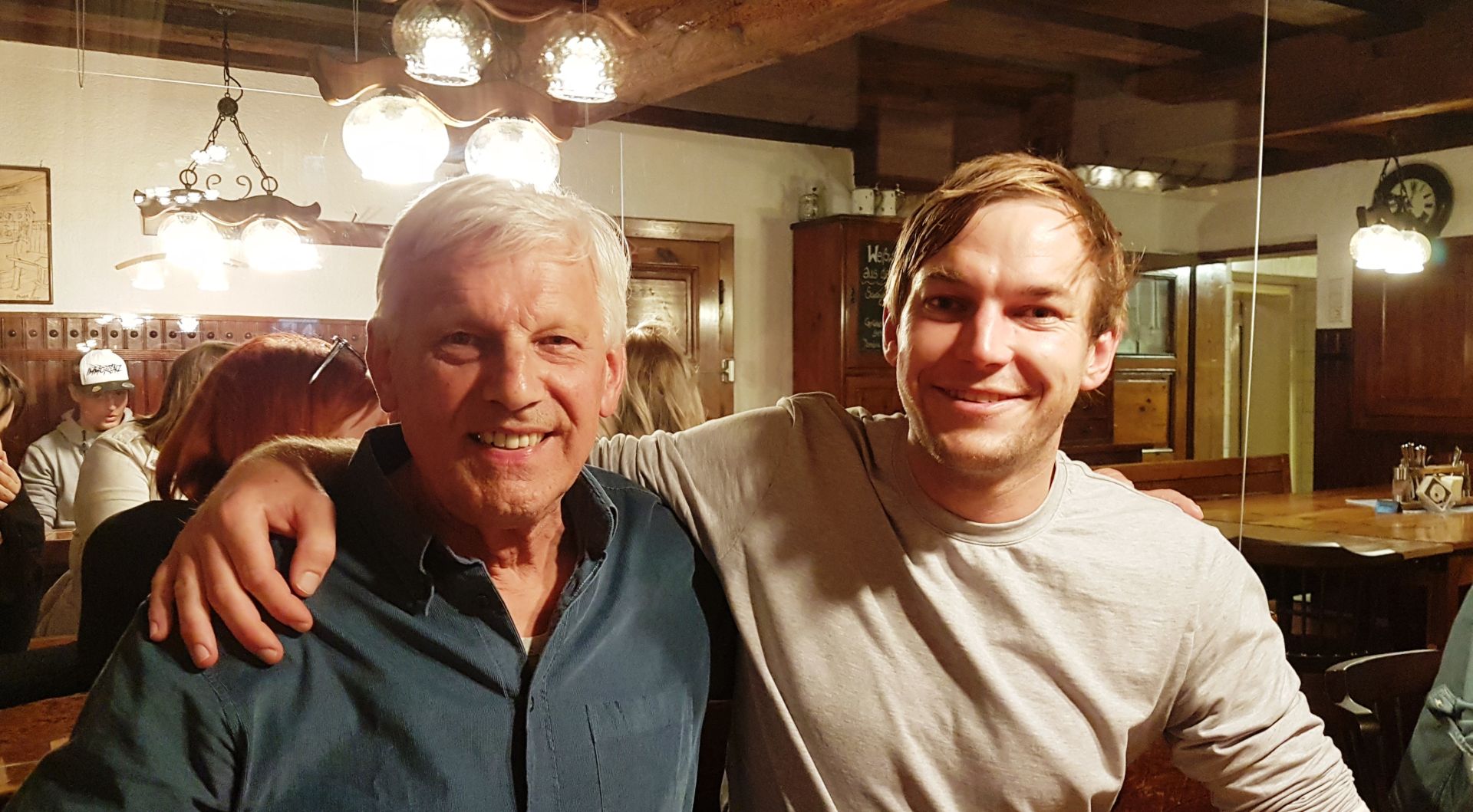 30.04.2022:
Das Treffen mit dem "Afrikaner" hat mich sehr gefreut!
Es ist gerade noch April an diesem Samstag-Abend, zu kühl für den Gastgarten und es hat außerdem zu regnen begonnen. Aber beim Wirt z'Aching gibt's ja eine gemütliche Stube. An einem großen Tisch sitzen schon ein paar von Michaels Freunden, Schulkameraden und Seeweg-Begleiter beiderlei Geschlechts.  Ich setz mich dazu und wir plaudern ein wenig über dies und das, essen und trinken was und dann kommt er auch schon – mit ein paar weiteren Kumpanen, der Afrika-Umrunder.
Nun gibt es reichlich zu erzählen – und er macht es gerne und kurzweilig, der Mike oder der Putti, wie ihn die Tischnachbarn nennen: Neben dem bereits Erlebten kommt auch die Zukunft ins Visier. Übermorgen schon geht der Flug gemeinsam mit einem Freund wieder hinunter nach Gambia und dann steht für 14 Tage eine Entdecker-Fahrt flussaufwärts mit der Webik am Plan. Bei dieser Explorer-Tour sind Krokodile und Hippos keine Seltenheit, soll heißen: schwimmen wird eine rare Angelegenheit. Nach der Süßwasserspülung folgt für die Yacht wieder ein Einsalzen, wenn das Zwischenziel, je nach Windverhältnissen, dann Kapverden, Kanaren, Madeira oder Azoren heißen wird. Danach sollte es Gibraltar werden, aber für's Mittelmeer-Sommern bleibt die Planung noch recht wage.
Ja, und bevor der Senior in der Runde den Jüngeren den späteren Abend übrig lässt, da gibt es noch ein Erinnerungsbild und gute Wünsche für die weiteren spannenden Abenteuer.
…..
---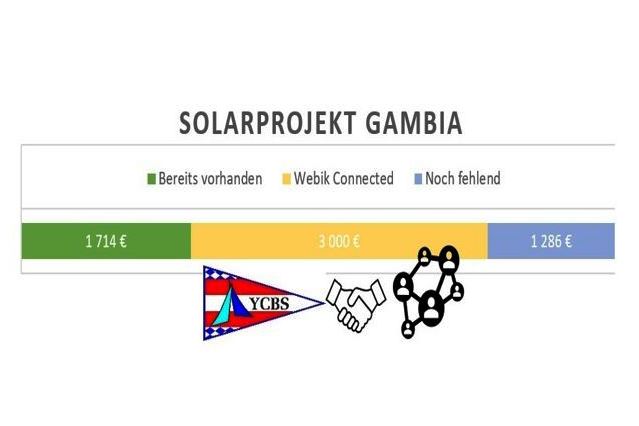 …
25.04.2022:
IHR SEID ALLE GROßARTIG,
so kommentiert Mike den Kontostand
beim SOLARPROJEKT GAMBIA  
In Origianalfassung:
You are all great! After less then one week this group already collected 3000€!
Account is open until this Sunday 1st of May.
Thank you all! Have a good start into the week!
PS:
Bis zum 1. Mai könnten wird die offenen 1.286 Euronen doch noch schaffen!?! Also liebe YCBS-Mitglieder: Wer will noch mal, wer hat noch nicht ?
Rund Afrika – DI Michael Puttinger – Segler für Gambia – IBAN AT28 3430 3000 0431 7756
…
---
.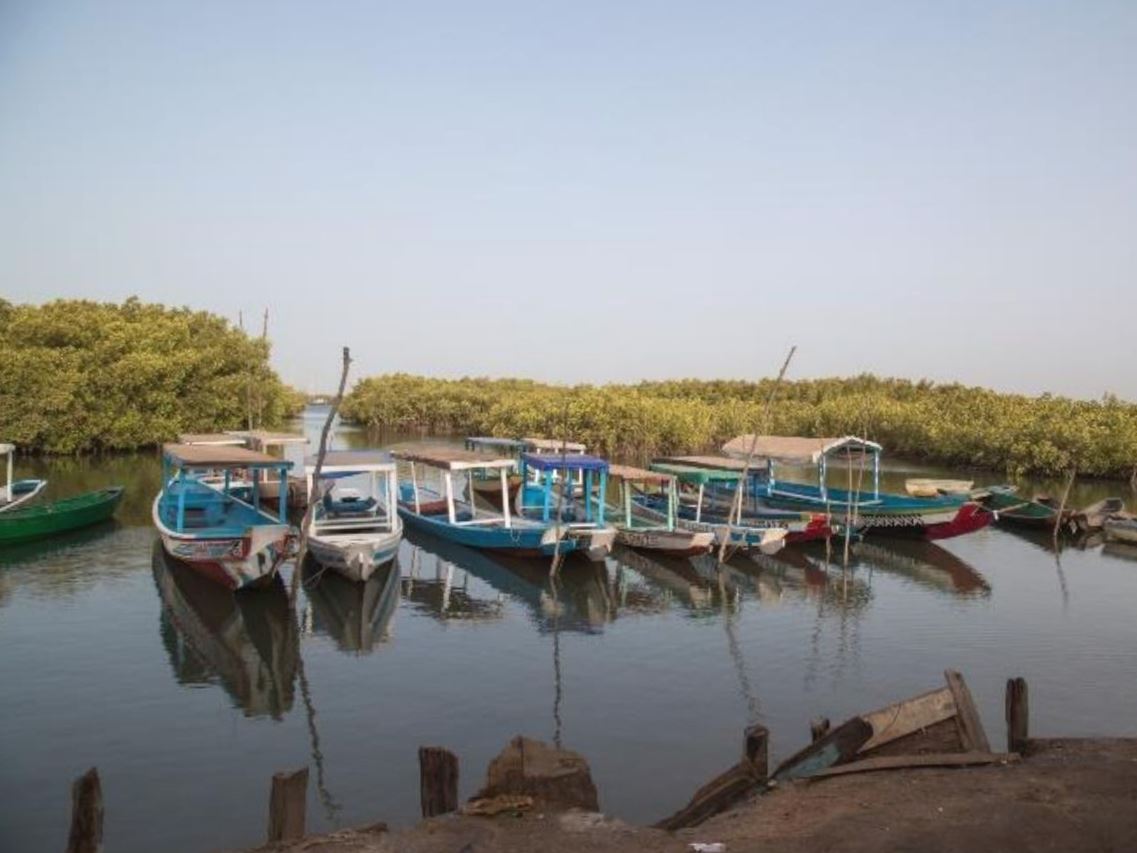 18.04.2022:
Ein Entwicklungshilfe-Projekt zum Mitmachen!  
Michael Puttinger nutzt zu Ostern seinen Heimaturlaub von der Afrika-Umrundung, so wie viele Menschen, für einen Familientreff. Dass neben dem Eierpecken auch noch Zeit zu einem Aufruf einer Unterstützung der Menschen in Afrika bleibt, das ist gerade für das christliche Fest der Auferstehung recht passend. Erklick dir nachstehend seinen Beitrag:
Segler für Gambia 
Zünde mit Webik den Funken für eine nachhaltige Dorfentwicklung!
Wenn du also, so wie Michael Puttinger, der Meinung bist, dass den Menschen in einem Dorf in Afrika, in Gambia, mit einer Spende, die in ein sinnvolles Kleinprojekt fließt, geholfen werden sollte, dann gib dir einen Stoß und lass was springen (Bankverbindung sh. Aufruf "Segler für Gambia") – danke!
PS:
An dieser Stelle ist auch ein herzlicher Dank für Michaels spannende Berichte von seiner Afrika-Umrundung angebracht – eine echt laufende Bereicherung für die YCBS-Homepage. "Für uns waren Michaels Schilderungen von zahlreichen Begegnungen mit afrikanischen Freunden sehr erfrischend und so auch gerne einen finanziellen Beitrag wert!" meint dazu der Ante-Clan.
….
---
.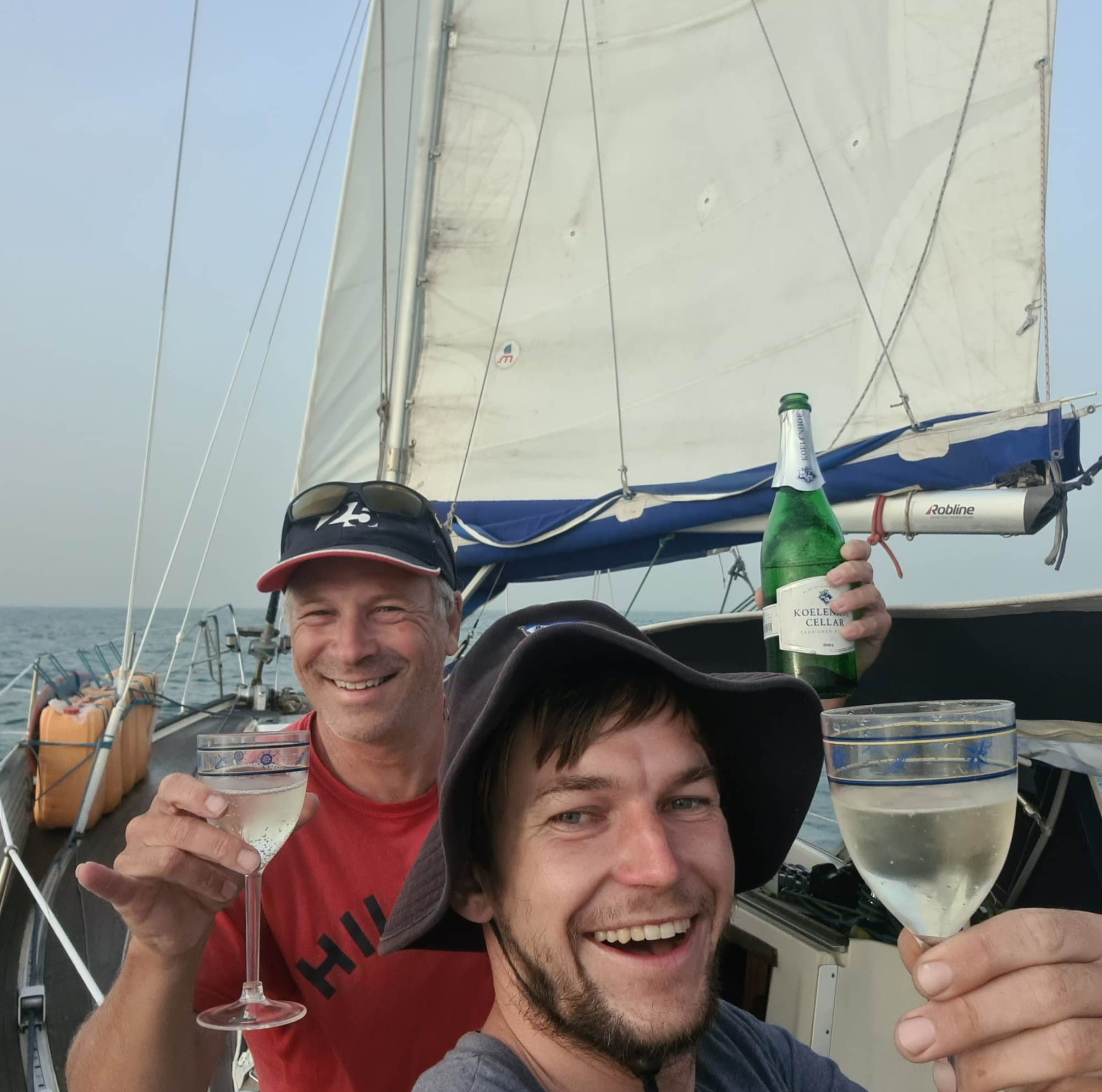 09.04.2022:
Ein happy Webik-Report aus Gambia!  
YCBS-Weber Ante verbringt einen windigen Abend direkt an der Küste in Trebisacce am Golfo di Taranto. Nach einem langen Spaziergang an der schier endlosen Promenade gehen ein paar sehr erfreuliche Infos auf Whatsapp ein:
Greetings from Lamin Lodge at The Gambia River! Friendly people were welcoming us and the immigration authority extra opened its doors even on this parlamentary election holiday. After paperwork and a little shopping trip we sailed some miles into a side arm of the main river where we are starting to recap the trip. 1480nm from Ascension in 13days and 13hours including a rememborable one night stay in Guinea Bissaus Bijagos Archipelagos. Also estonished how smooth the entire 3500nm trip went from 23degrees South to 13degrees North on the African continent. And very relieved that we did not get hit by a lightning. From elctrotechnical perspective I cannot explain how Webik managed to escape this night. But now we are looking forward to covering a bit of Gambias beauty and maybe I will join Wolfgang on his homegoing flight to hug as many as possible from you for your continuous mental support and also for the nice birthday wishes I just downloaded! Special thanks again to brother Leo who keeps us in touch and lets me take better decisions at sea with his profound weather reports.
Have a great weekend ALL, MaW
PS: Dass die lange Überfahrt auch etwas feucht war, das zeigt ein Kurz-Video !
….
---
.
08.04.2022: Die Ansteuerung von Gambia ist auch nicht gerade easy!  
Wie am Bild ersichtlich, steuert die Webik (sh. Zielscheibe)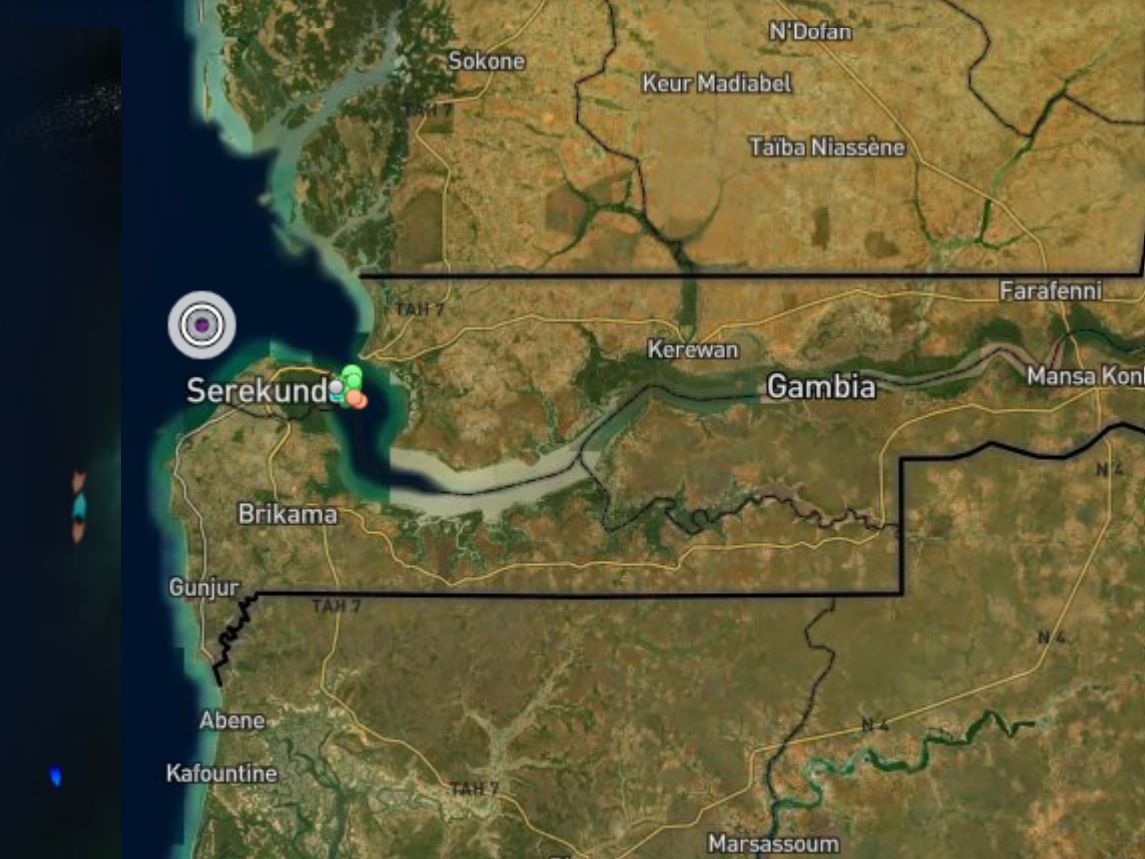 gerade das Mündungsdelta des Gambia-Flusses an. Wenn man das Ziel praktisch schon vor den Augen hat, dann glaubt man oft, dass man nun gleich da ist. Aber meist zieht es sich gerade zum Schluss noch ordentlich. Wie es der Webik dabei ging, das schildert Skipper Mike in seinen englischen Kurzberichten.
Die Meldung vom Donnerstag, den 7. April:
1230 N11.29 W16.33 4,3kn 350 7kn NNW
Webik is on the road again currently Motorsailing in the misty coastal calmness and navigating through the river deltas sandbanks and currents. Dolphins are arround and cheering at Webik for the final 120nm to gambia. Thank you for this pictures short break guinea bissau!
Webik
Die Meldung vom Freitag, den 8. April:
1415 N13.10 W17.01 4,8kn 015 10kn NW
Only 25nm to go until we leave the atlantic ocean and entering the Gambia River. It should provide a safe  anchoring … [Message probably  missing] … Banjul 2200 tonight. Lets hope that they are still awake!
Cheers, MaW
…
---
.
06.04.2022: Der Westen Afrikas rückt in greifbare Nähe!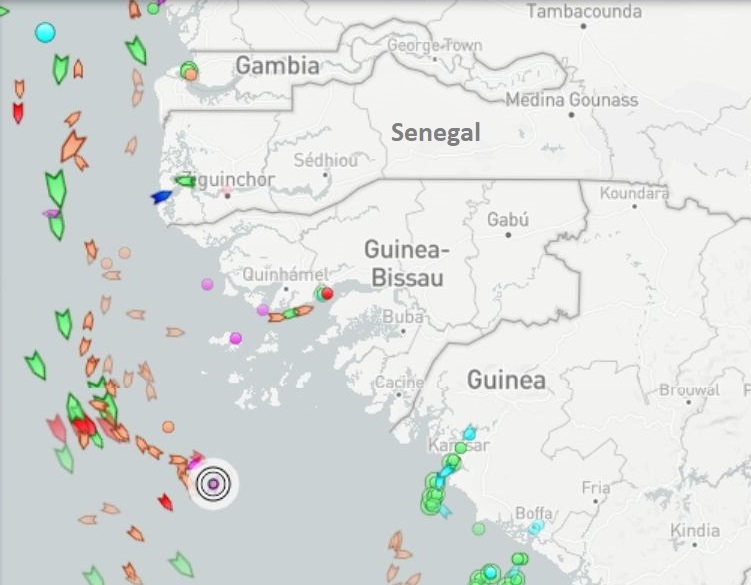 Erstmals seit der Abfahrt in Namibia und der langen Reise über Sankt Helena und Ascension ist die Position der Webik wieder via AIS in MarineTraffic – zumindest vorübergebend – sichtbar. Damit geht der große Atlantikbogen um den Golf von Guinea bald zu Ende. Was Skipper Mike die letzten Tage gemeldet hat, das findest du nachstehend – wieder in gutem Englisch:
Die Meldung vom Montag, den 4. April:
1100 N08.41 W15.39 4,8kn 040 14 NNW
We already can feel the African continent close by. The tightest course we can sail upwin and against current now points us to Guinea. The huge increase of ship trafic causes more stress during the night watch but it is also nice to have some company arround again after the mid atlantic loneliness.
Have a good Monday and do not mind some headwinds.
Sail it! Webik
Die Meldungen vom Dienstag, den 5. April:
0930 N10.19 W15.36 6kn 350, 7kn WNW
A nice day started with a caught tuna, which meant steaks for lunch and a hot fishpot for dinner. – quite usefull as nights getting cooler again. Luckily the wind shift came in the evenning so we could adjust the course even NNW wards. We are still still sailing on port of guinea bissau. Gambia is only 200nm away excluding the upwind tack miles.
Cheers, MaW
1800 N11.19, W16.26
Webiks upwind demanded crew couldn't resist to see something of the Arquipelago Dos Bijagos beauty of Guinea Bissau. Anchor dropped in front of a remote island with african red sun dropping over the huge baobab trees. Fish dinner in the pan to be ready for tomorrows early bird anchors up for the finish sprint.
Cheers, Webik
Die Meldung vom Mittwoch, den 6. April:
1215 N10.50 W16.31 4kn 000 NW 10
We did not see land yet but sailing the coastal shallow waters of Guinea Bissau – a huge archipelago of small islands, mangroves and birds. A short swimming stop lifted our mood as our slow progress windward is exhaustive and tiring. Every mile counts.
Webik
….
---
.
03.04.2022: Squalls, Wolkenbrüche, Blitz und Donner in den Kalmen!  
Die unübersetzte Berichterstattung von der Webik in Zusammenfassung von ein paar Tagen geht weiter. Auch diesmal ist der Informationsweg einfach: Mike sendet von seinem Schiff im Atlantik per Satellitentelefon an Leo ins Innviertel, dieser stellt die Nachricht auf Whatsapp und der sich derzeit auf Sizilien herumtreibende Ante kopiert die Einträge und verwebt sie für dich in der YCBS-Homepage (diesmal mit herzlichen Grüßen aus Cefalu).
Die Meldung vom Donnerstag, den 31. März:
0845 N1.54 W15.56 5,5kn 350 7kn SE
We are happy to have crossed the equator in still outfading SEly winds, which are still sailable, – the spinnaker is ready. Only some dark clouds interrupt this constant light airstream and bring rain or abnormal winds in direction and force – especially in the nights. This makes it tricky to keep sailing while navigating through this squall-slalom. So first time engine use for some hours during night. But so far, pretty happy with the progress, just NO fish!
Keep fingers crossed, webik!
Die Meldung vom Freitag, den 1. April:
1100 N3.52 W16.07 5kn 340 5kn S
With still no fish in the pan, we had to review our plan. With Rio in the south west, for sure its culture and food one of the best. To sail a bit faster towards this picturesc site, we equipped webik with hydrofoil and kite. We will send you postcards from Brasil, hopefully arriving still in april.
Cheers, webik
Die Meldung vom Samstag, den 2. April:
1200 N5.31 W16.22
The ITCZ has us shown its power and its sailors dislike. A squall with 30kn + winds yesterday was only little comparred to the night followed. Rains like waterfalls and lightnings and thunders from all sides striking next to Webik in the water made us feel so small. However, the 2 tactics worked well, focussing on distracting several key electronic devices from antennas and its supply and praying. Now the sky is finally brighter and electrics on again. We cought a fish btw, and i am tired of crossing the equator again.
Have a blessed weekend, Webik
Die Meldung vom Sonntag, den 3. April:
1130 N7.17 W16.26 5,5 013 NW 14
This night we left the convergence zone and are now in the northerly trade winds with still some clouds to our sides but much brighter again. We can think again of a visible sun during day. Webik is opening the upwind battle northwards and hoping to utilize some westerly windshifts so that we can reach Gambia or at least some islands of Guinea Bissau directly without tack.
Have a bright sunday, MaW
…..
---
.Leo
30.03.2022: Äquatortaufe – die Webik hat die südliche Hemisphäre verlassen!  
Seit dem Geburtstagseintrag vom 27. sind bereits wieder 3 Tage vergangen. Nicht dass es keine Infos von der Webik begeben hätte, aber Weber Ante ist auf Italien-Trip (sh. Abfahrt). Aber heute hat der Abend etwas Spielraum, so lassen sich, von einem kleinen Ort am Fuße des Vesuvs aus, die Nachträge rasch einschieben (diesmal unübersetzt, damit der geneigte YCBS-HP-Surfer sein Schulenglisch wieder einmal testen kann):
Der Nachtrag von vorgestern, Mo. 28. März:
0830 S3.44 W15.13 6kn 355 16kn ESE I really enjoyed my second offshore- spent birthday on the africa circumnavigation. Thx to all your wishes, some forwarded through satelite, and for joining the party virtually! Next time we will again exchange physical hugs and cake pieces! Sailing wise it was a fast day in pleasant conditions with mean speeds close to 6kn what is quite ok for a birthday party. We can feel the shortening distance to the equator with building clouds, outfading swells and some lightning far ahead during night.
Have a good start into the week, MaW
Der von gestern, Di. 29. März:
1000 S1.31 W15.19 5,5 0d 16kn ESE We are trying to find the exit from the south atlantic ocean who carried us so far and treated us mostly peacefully. But now we are surrounded by thick rainy clouds, lightning and thunders. The quick wheater changes demand a more present and dynamic crew, which is exhausting at times. However, i think finally we got rid of all namibian sand in the last squall.
Have an enlightened day, webik
Und der von heute, Mi. 30. März:
1000 N0.19 W15.27 4,8kn 0d 11kn SE Neptuns poem: Webik sailed over the latitude zero line, the northern hemisphere greets us with sun shine. This morning also a bit closer to home i felt, on my 4th time sailing with webik over the equator belt. But now its wolfgangs baptism time, with namibian eggs, bilge water and cucumber brine. An old chinese tsingtao beer should not be missed, it already worked from the maldives so i kept it on the list. Wish him luck and all success, that neptun keeps in good mood with maybe the lightning less.
Cheers, Webik
…..
---
.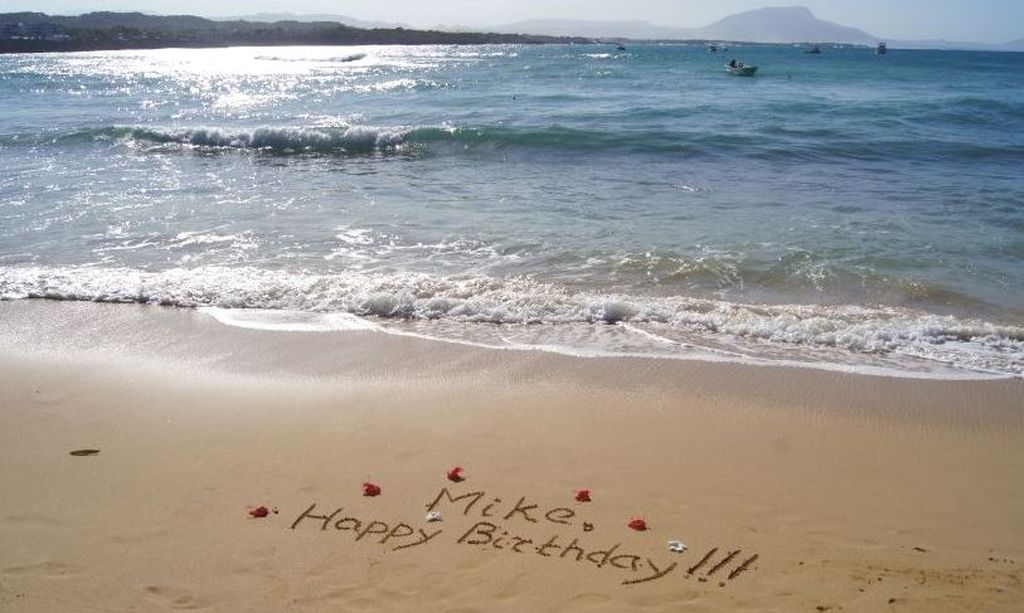 27.03.2022:
Eine Geburtstagsfeier mit viel Post auf Whatsapp!
Captain Mike hat heute Geburtstag. Da gratuliert der YCBS recht herzlich aus der fernen Heimat!
Lieber Michael, am Abend werden wir zur vereinbarten Zeit ganz virtuell und offline mit einem coolen Drink auf dein Wohl anstoßen.
Ein wenig schade ist es schon, dass unser Geburtstagskind die vielen begeisterten Gratulantinnen am Strand nicht sehen kann.
Zur Mittagszeit gab's übrigens wieder einen poetischen Webik-Kurzreport via Satelliten:
S05.42 W14.47 6kn 350 16kn ESE
Captains birthday is today, the crew is shouting loud hiphip hurray.
For breakfast omelet with cheese and ham, not easy was to hold the pan.
Wind from the side also affected the bake, thick on the right and thin on the left is the chocolate cake.
Of family and friends today i think, so join us tonight for a sundowner drink.
Etmal 136nm! Cheers, Webik!
……
---
.
26.03.2022:
Am 3. langen Süd/Mittel-Atlantik-Schlag – 1.300 Meilen von Ascension nach Gambia !
Die große Umfahrung des Golfs von Guinea geht ab der Insel Ascension in die dritte Teilstrecke. Beim nächsten Mal "Land in Sicht" liegt dann das westafrikanische und von Senegal umschlossene Gambia vor dem Bug der Webik. Bis dahin dauert es aber noch ein gutes Weilchen, wie um 12:30 die letzte Skipper-Post aus Ascension verrät:
Die Webik startet zu ihrem letzten Südatlantik-Schlag in Richtung Gambia. Eine rund 1.300 Seemeilen oder 14 Tage lange Passage mit Äquator-Überquerung liegt vor uns. Danke Ascension für deine Gastfreundschaft und für die unvergesslichen Dinghi-Ritte vom Mooringplatz zur Küste.
Bitte seid so frei und trefft mich morgen virtuell und offline zu einem Geburtstags-Sundowner um 18:00 UTC (= 20:00 MESZ). Alles war ihr dazu braucht ist ein kalter Drink und einen schönes Lied. Der Favorit in diesem Jahr:  Billy Joel's "The piano man".
Passt auf euch auf und bis bald!
WEBIK
…..
---
.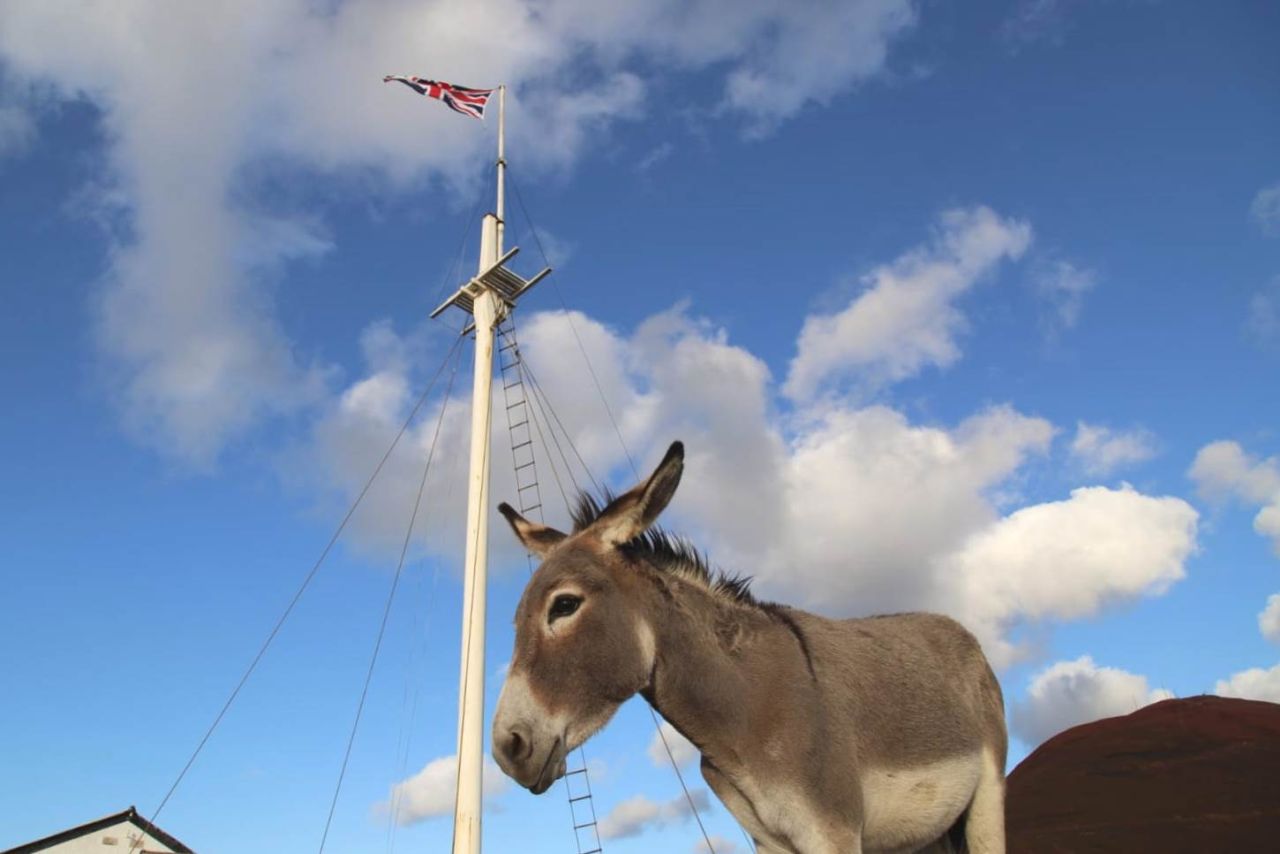 23.03.2022:
Ein Esel, viele Fische und
reichlich Erlebnisse auf Ascension !
Was macht ein Esel auf Ascension? Er übersetzt etwas störrisch den englischen Text ins Deutsche. Skipper Mike liefert dazu ein kleines Update von der zweiten Perle der Webik-Südatlantik-Reise:
Die Ascension-Insulaner, welche für die Militärstation, die Raumfahrtagentur oder andere streng geheime Services arbeiten, hießen uns hier herzlich willkommen. Wir besuchten die Preisverleihung eines Fischfang-Wettbewerbs, wo wir einige Filets für unser Essen retten konnten (einen 60kg-Fisch – unglücklicherweise nicht den einen, der von uns mit einem Haken gepierced worden war). Wir  bekamen eine freie Inseltour, besuchten das Museum, man ermöglichte einige Stunden Zugang zum royalen Internet für unser Homeoffice und ich bekam einen freien Haarschnitt vom hiesigen Yachtclub-Manager.
Der Anker slippt manchmal etwas und wir zelebrieren bei jedem Beiboot-Ritt zum Ufer ein Überlebenstraining, um nicht von den 3 bis 4 Meter langen Galapagos-Haien gefressen zu werden, welche unter unserer roten 2-Meter-Gummi-Ente patrouillieren. Zuletzt servicierte ich den 2,5 PS Außenborder, weil auch ein wenig manueller Vortrieb bei diesem 2 Meter Schwell reicht.
Soweit also ein erstaunlicher Aufenthalt, den wir zum Abschluss auch nutzen, um einige der vulkanischen Inselerhebungen zu erwandern und, bevor wir Segel Richtung Gambia setzen, auch an der klassischen "Yacht Club Jam Session" teilzunehmen – am Freitag um 16 Uhr UTC im Saints Club auf der Insel Ascension. Das österreichische Akkordeon wird wieder aufspielen – für den Frieden und gegen den Krieg!
Grüße von der Webik
---
.
18.03.2022:  Zur Mittagszeit kommt die Webik auf Ascension an !
Die flotten Transfer-Tage der vergangenen Süd-Mittel-Atlantik-Etappe von St. Helena nach Ascension in einem einzigen Bild zusammengefasst: